This party season is gonna be YOUR time to shine so don't settle for a look that's less than spectacular!
We've got your back. Here are our picks that'll have you looking all glammed up and feeling extra special to celebrate an end to a fantastic year!
Of course, you've got to find a location with the perfect atmosphere to get into the mood of celebration. We've chosen Hotel Jen Orchardgateway Singapore to spend the last few nights of 2018 with glamour and style.
Disclaimer:
Prices mentioned are correct as of 17 Dec 2018 and discounts mentioned are a result of our End Season Sale for the month of December.
Exude your inner elegance and femininity with a glamorous evening gown.
Want to pump up your party game even more? Match it with a pair of subtle yet versatile black heels that won't end up stealing the limelight from your stunningly classy dress.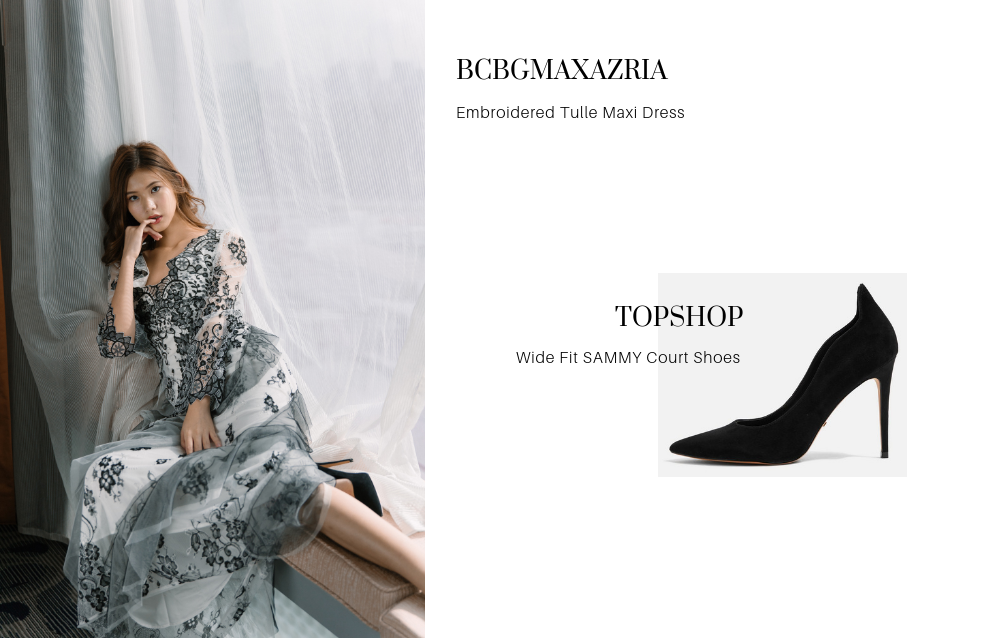 BCBGMAXAZRIA Embroidered Tulle Maxi Dress S$919
Topshop Wide Fit SAMMY Court Shoes S$89.90
If you're a check lover, this one's for you! Rock this timeless print from head to toe and stand out in the party crowd by looking like a classic gentleman.
Want to truly be all decked out in checks? Wear it with a check T-shirt to complete your smart look without compromising comfort.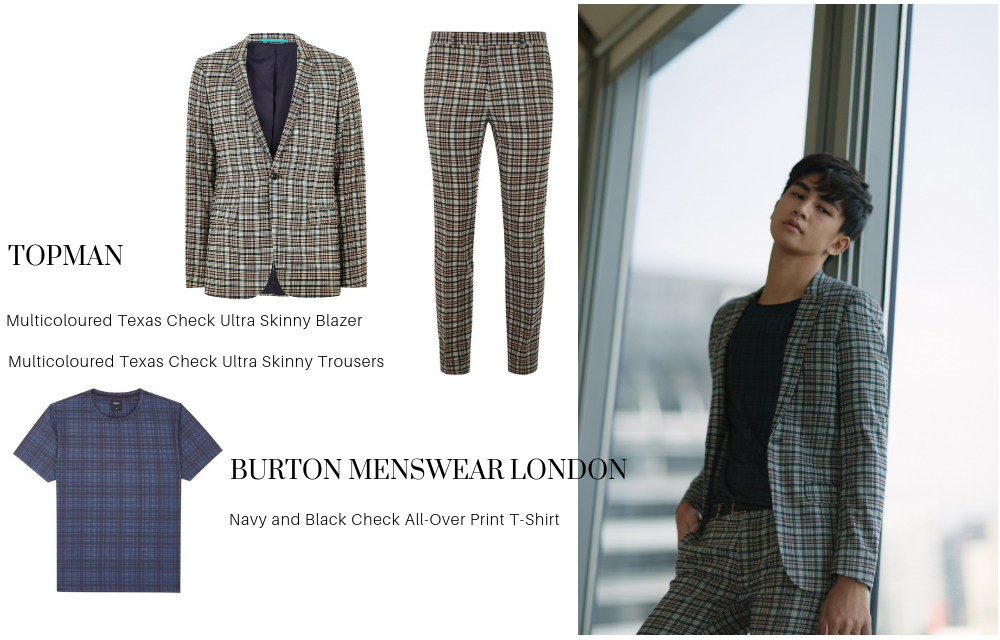 TOPMAN Multicoloured Texas Check Ultra Skinny Blazer S$286
TOPMAN Multicoloured Texas Check Ultra Skinny Trousers S$129
BURTON MENSWEAR LONDON Navy and Black Check All-Over Print T-Shirt S$36.90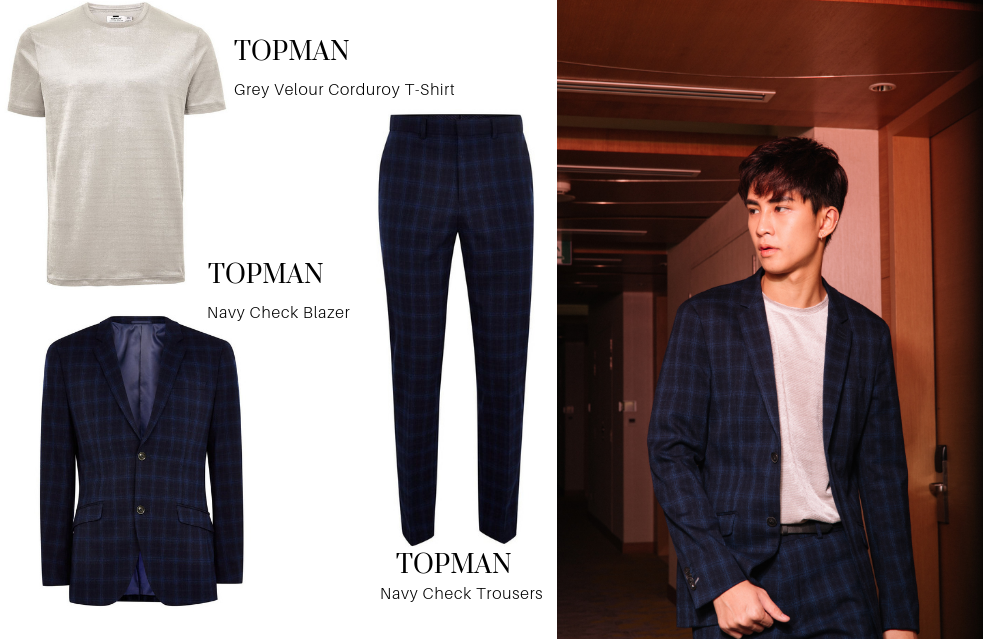 TOPMAN Navy Check Blazer S$286
TOPMAN Navy Check Trousers S$129
TOPMAN Grey Velour Corduroy T-Shirt S$39.90 (Now S$19.90)
Create your own fireworks and captivate everyone at the party with this bedazzling piece.
Not a fan of sleeveless clothing? These long mesh sleeves will add a modest yet sensual touch to your outfit.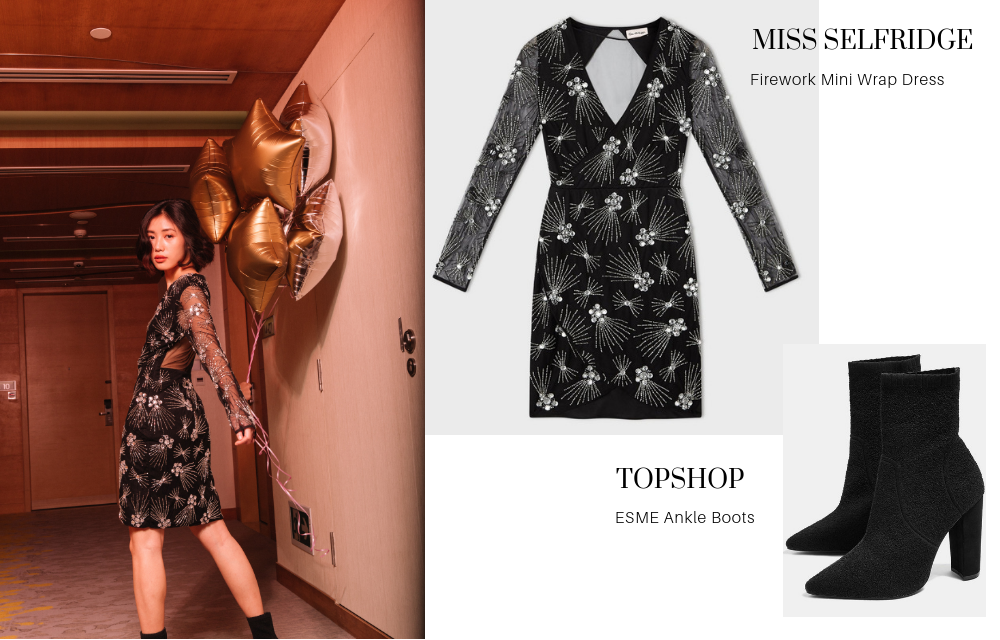 MISS SELFRIDGE Firework Mini Wrap Dress S$299
TOPSHOP ESME Ankle Boots S$96.90
Shinin' Bright like a Diamond
Why blend in with the crowd when you're born to shine? Strut into the party like a star and don't forget to accessorise with a statement bag to turn some heads!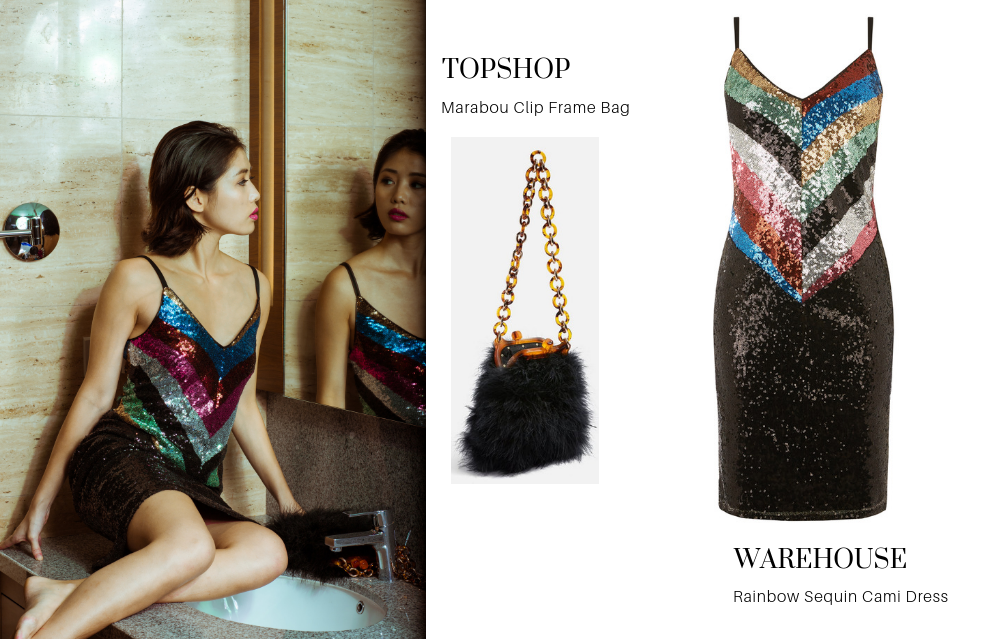 WAREHOUSE Rainbow Sequin Cami Dress S$189 (Now S$94.50)
TOPSHOP Marabou Clip Frame Bag S$63.90
Want to play it safe with a classic party look but still turn heads?
A glitter cut-out gown is all you need, ladies.
If statement and coloured suits are out of your comfort zone, you definitely can't go wrong with a minimalist black and white suit. Add some major fashion cred with a bow tie and your ultimate gentleman look is complete.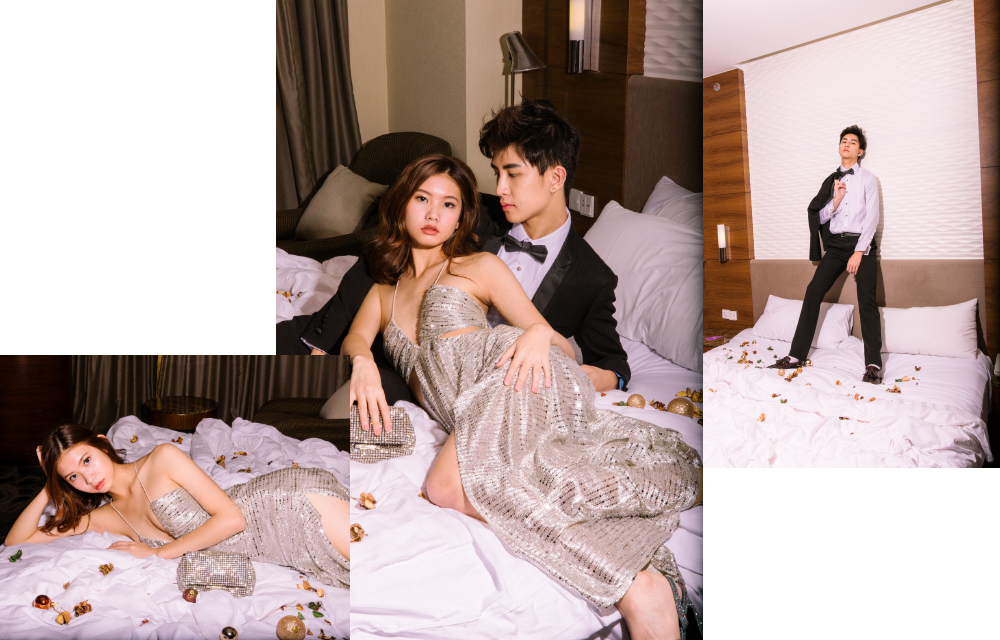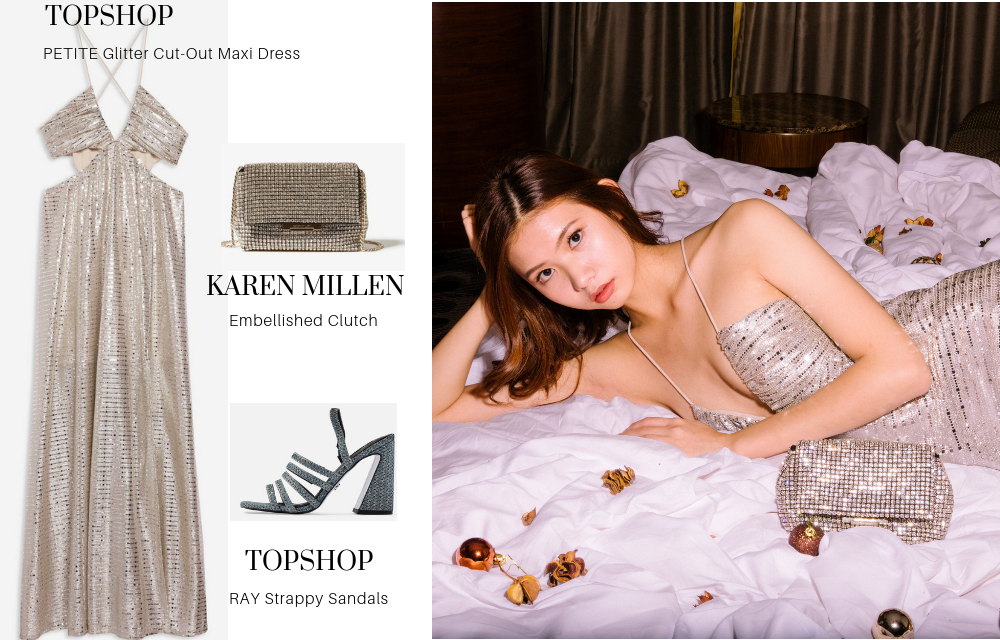 TOPSHOP PETITE Glitter Cut-Out Maxi Dress S$149
KAREN MILLEN Embellished Clutch S$479
TOPSHOP RAY Strappy Sandals S$106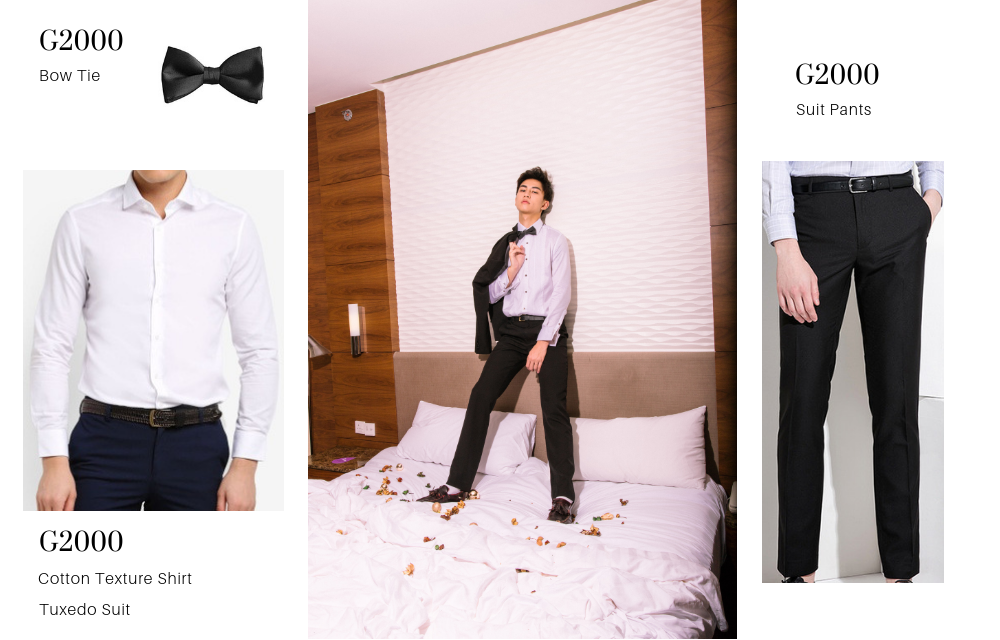 G2000 Suit Pants S$109 (Now S$65.40)
G2000 Cotton Texture Shirt S$79 (Now S$55.30)
G2000 Tuxedo Suit S$329 (Now S$229)
G2000 Bow Tie S$39
Since parties are all about having fun, don't be afraid to make your very own fashion concoction! Play around with luscious textures and prints for a show-stopping look that speaks your own personality.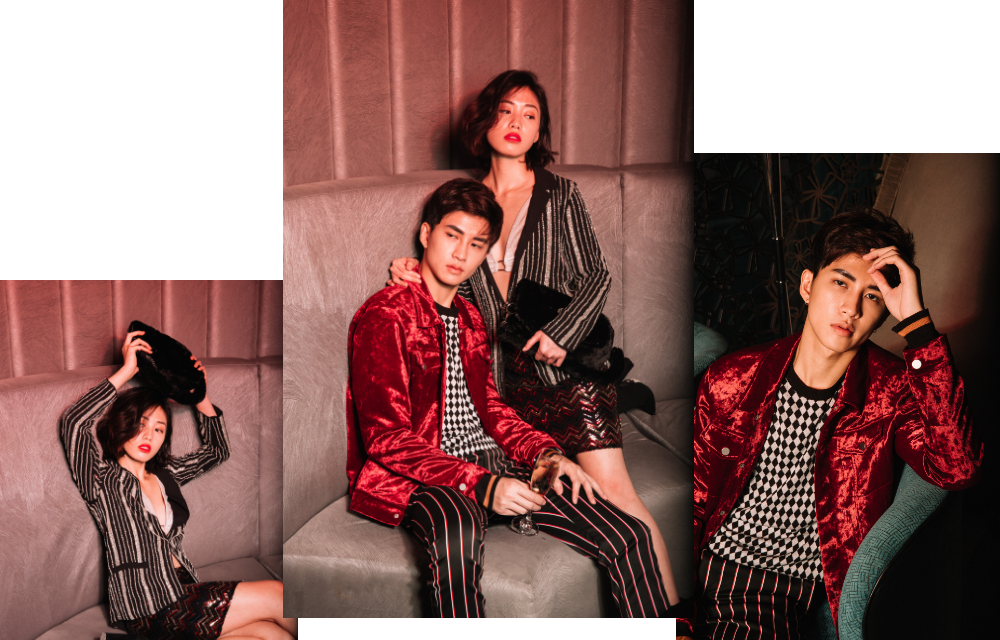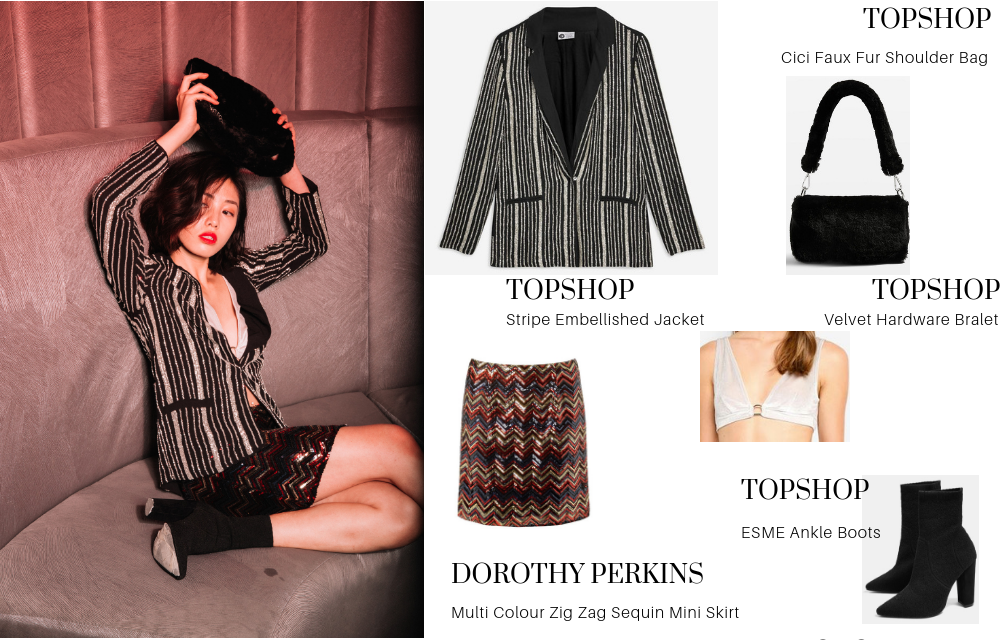 TOPSHOP Stripe Embellished Jacket S$299
TOPSHOP Velvet Hardware Bralet S$36.90
DOROTHY PERKINS Multi Colour Zig Zag Sequin Mini Skirt S$89.90
TOPSHOP Cici Faux Fur Shoulder Bag S$63.90
TOPSHOP ESME Ankle Boots S$96.90
TOPMAN Black and White Diamond Jumper S$73.90 (Now S$49.90)
TOPMAN Red,White and Black Stripe Joggers S$99.90
TOPMAN Red Velvet Western Jacket S$219 (Now S$139)
Not a dress and skirt kinda girl? Embrace the androgynous style with jumpsuits that exude just the right amount of sophistication.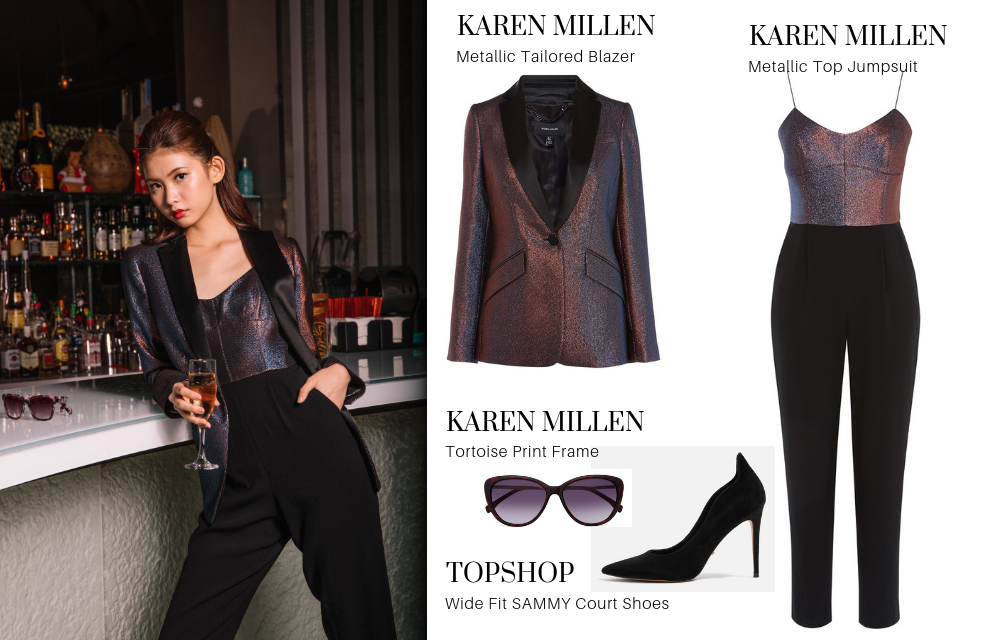 KAREN MILLEN Metallic Tailored Blazer S$629 (Now S$440.30)
KAREN MILLEN Metallic Top Jumpsuit S$519 (Now S$363.30)
KAREN MILLEN Tortoise Print Frame S$289
TOPSHOP Wide Fit SAMMY Court Shoes S$89.90
An edgy leather jacket has to be a staple in every man's wardrobe. Rock this timeless piece and pair it with a bold shirt for pop of flamboyance.
Another pro about the forever-stylish jumpsuit is how they won't constrict your movements at all! Now you're all set to impress and dance the last few nights of 2018 away.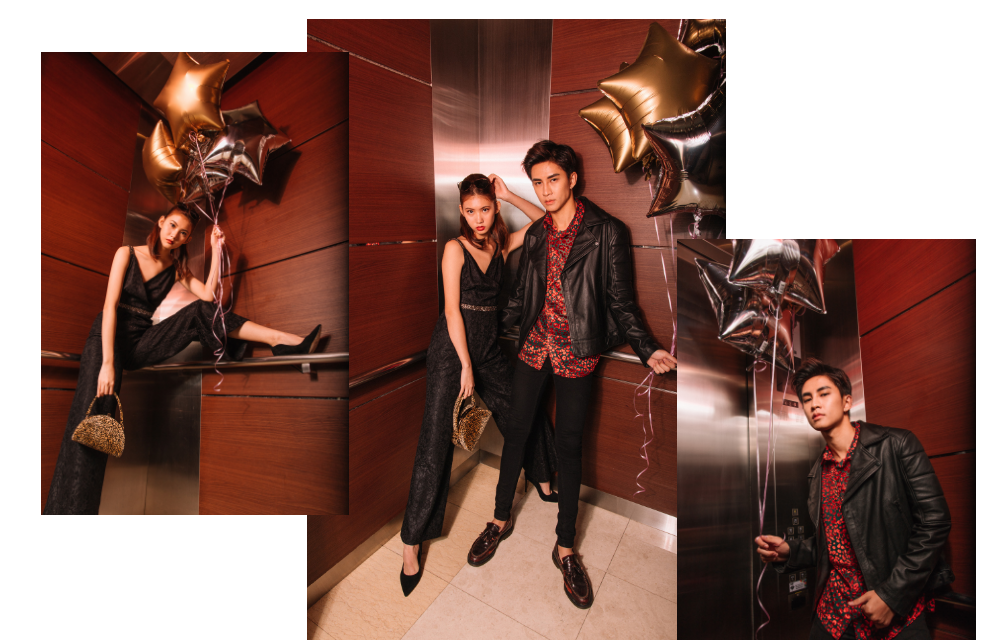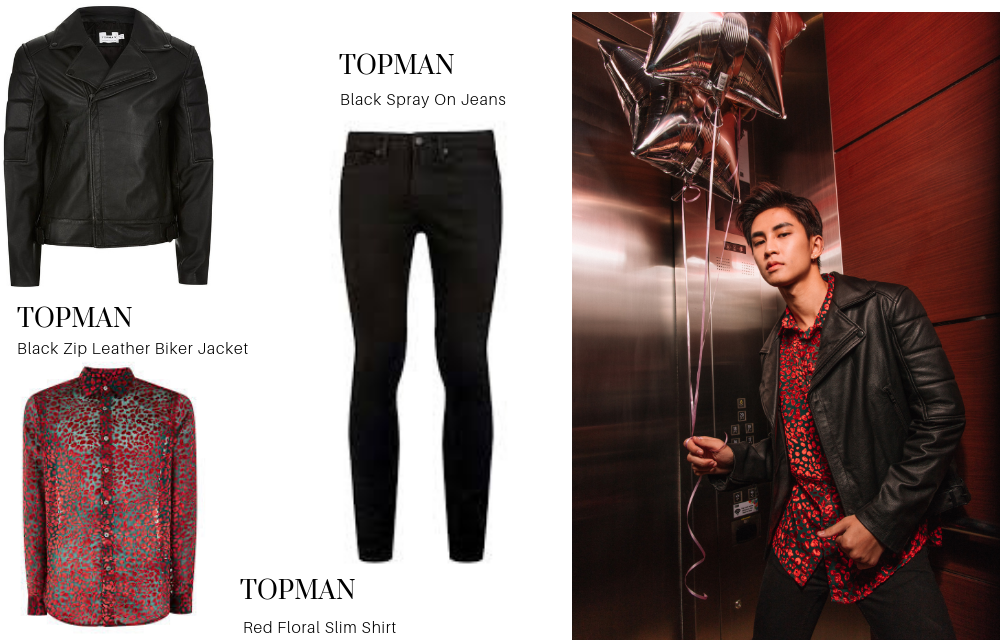 TOPMAN Red Floral Slim Shirt S$103
TOPMAN Black Zip Leather Biker Jacket S$299
TOPMAN Black Spray On Jeans S$73.90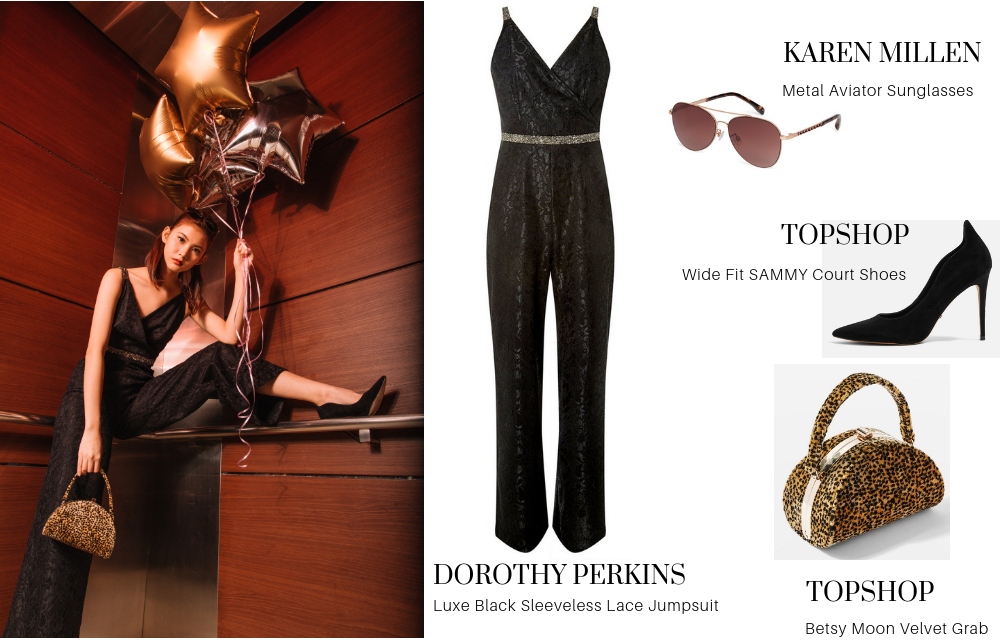 DOROTHY PERKINS Luxe Black Sleeveless Lace Jumpsuit S$156
TOPSHOP Wide Fit SAMMY Court Shoes S$89.90
TOPSHOP Betsy Moon Velvet Grab S$59.90
KAREN MILLEN Metal Aviator Sunglasses S$269
Attending the same holiday party as your BFF? Seize this opportunity and rock matching suits!
A two-piece set made from a plush fabric like velvet may sound a bit odd, but we assure you both will receive nothing but compliments all night long.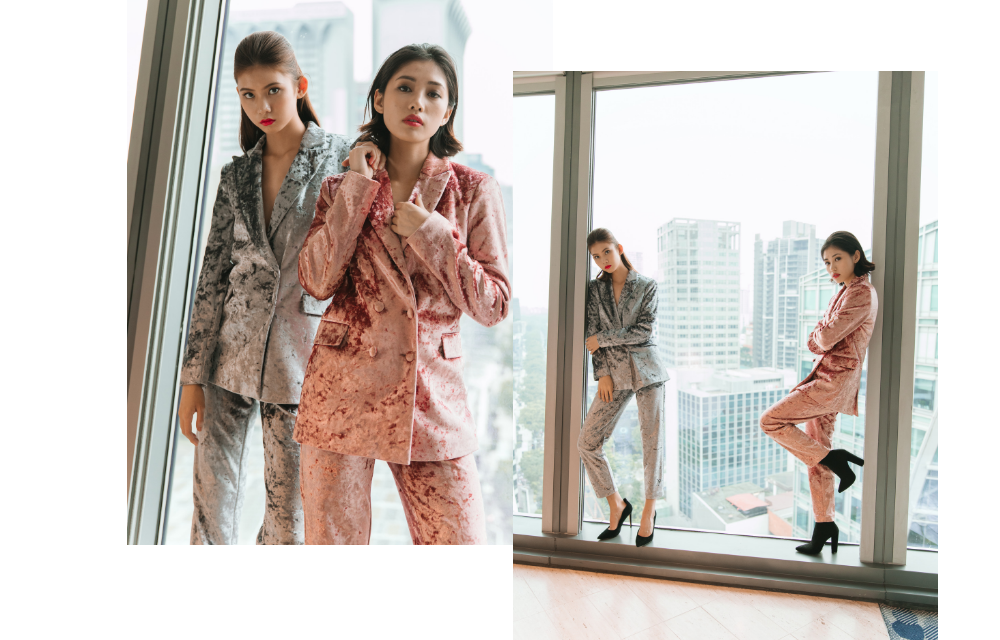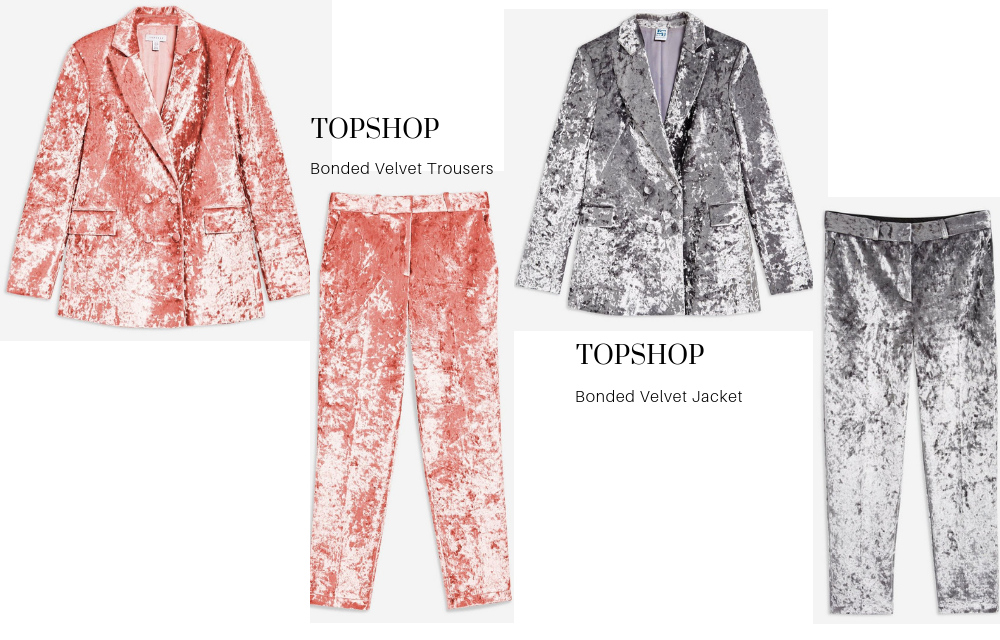 Topshop Bonded Velvet Jacket S$169
Topshop Bonded Velvet Trousers S$106
We're going to end this list the same way we started it, with a whole lot of GLAMOUR.
So what are you still waiting for?! End this year with a BANG and go all out in these extravagant statement outfits!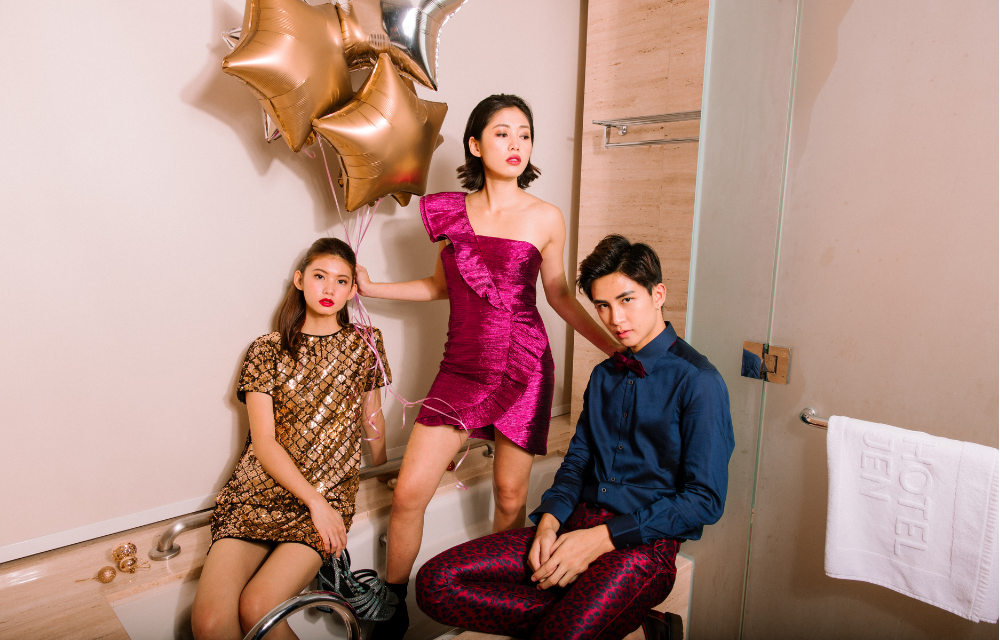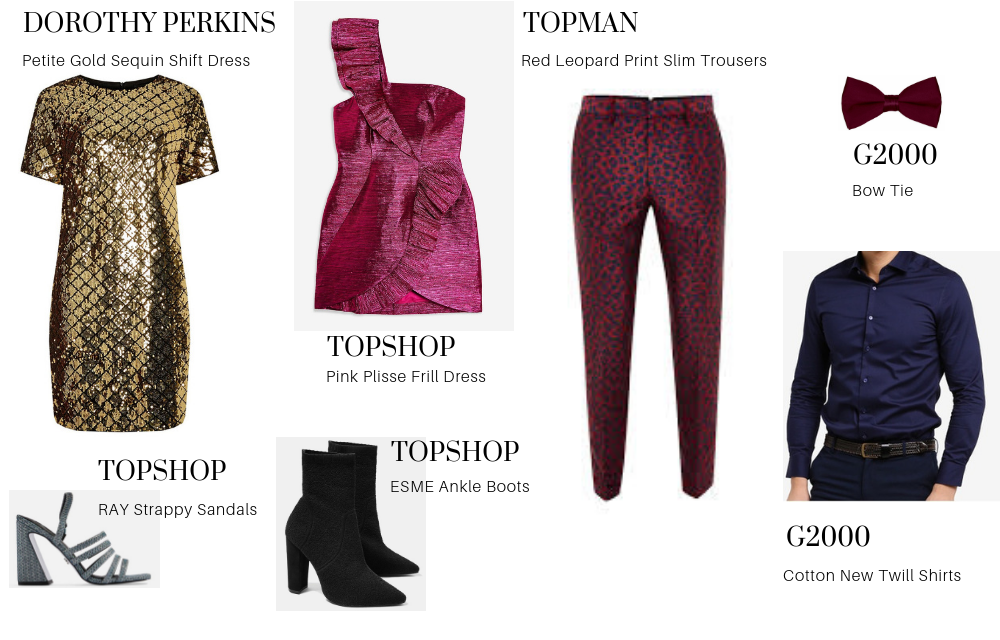 TOPSHOP Pink Plisse Frill Dress S$149
TOPSHOP ESME Ankle Boots S$96.90
DOROTHY PERKINS Petite Gold Sequin Shift Dress S$143
TOPSHOP RAY Strappy Sandals S$106
G2000 Cotton New Twill Shirts S$79 (Now S$55.30)
G2000 Bow Tie S$39
TOPMAN Red Leopard Print Slim Trousers S$126
Hotel Jen Orchardgateway Singapore
Hotel Jen Orchardgateway Singapore is located right in the heart of the famous Orchard Road, with direct access to four main shopping malls for great shopping and restaurants of various cuisines.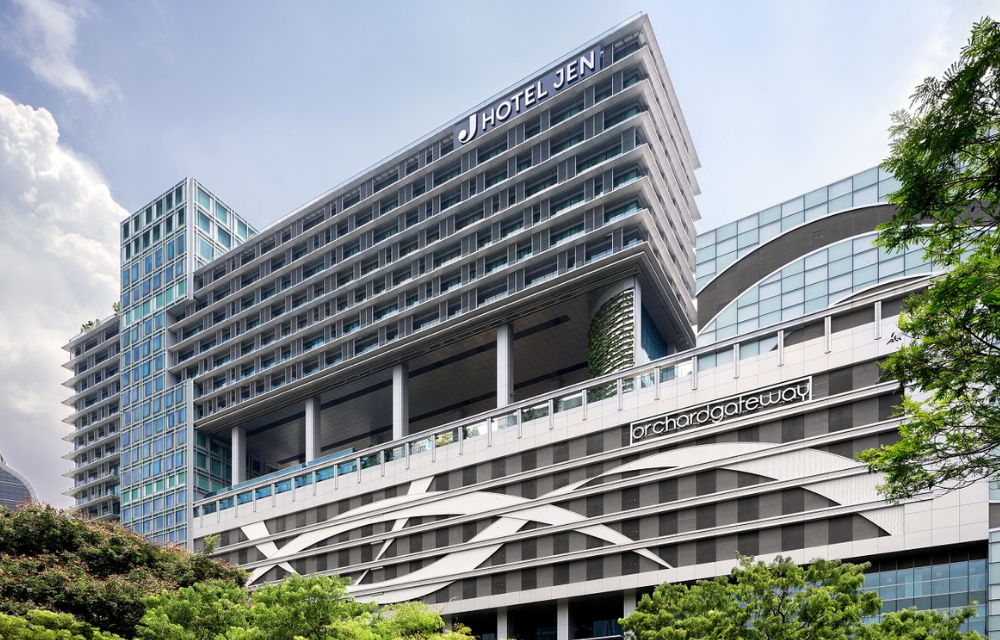 Everyone's sense of "unwind" is different. Welcoming guests with a beautiful outdoor rooftop pool and elegantly furnished rooms, there is always something at Hotel Jen Orchardgateway Singapore for everybody to enjoy.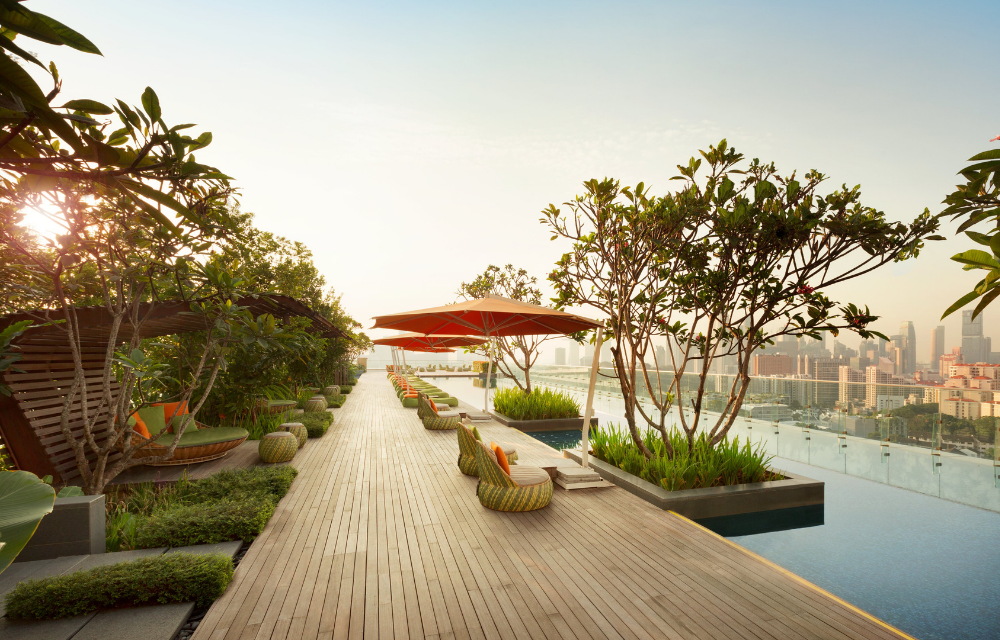 Planning for a staycation at Hotel Jen Orchardgateway Singapore? You are just a click away!