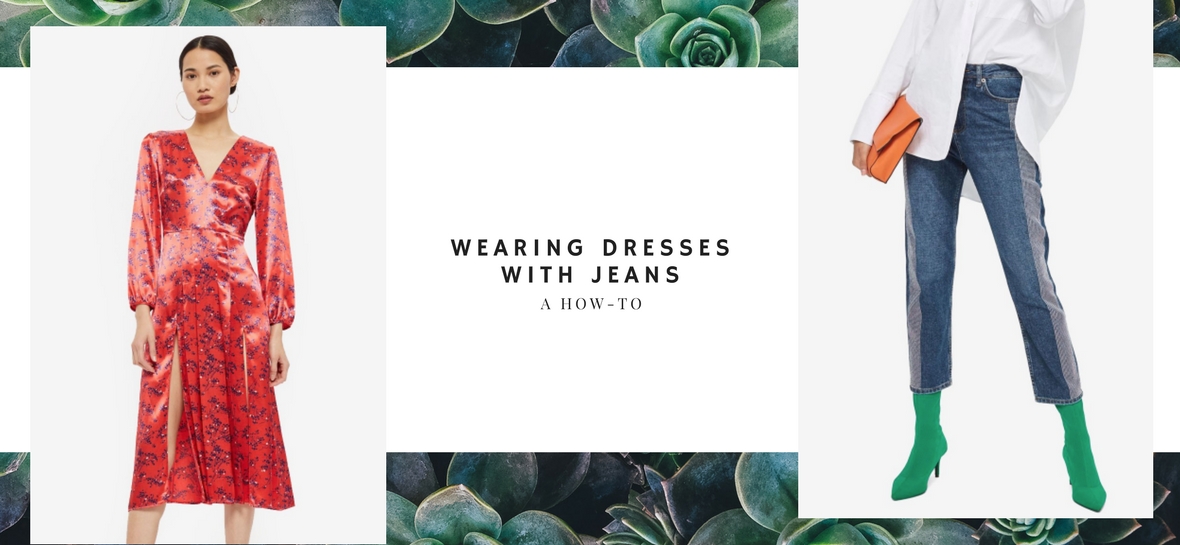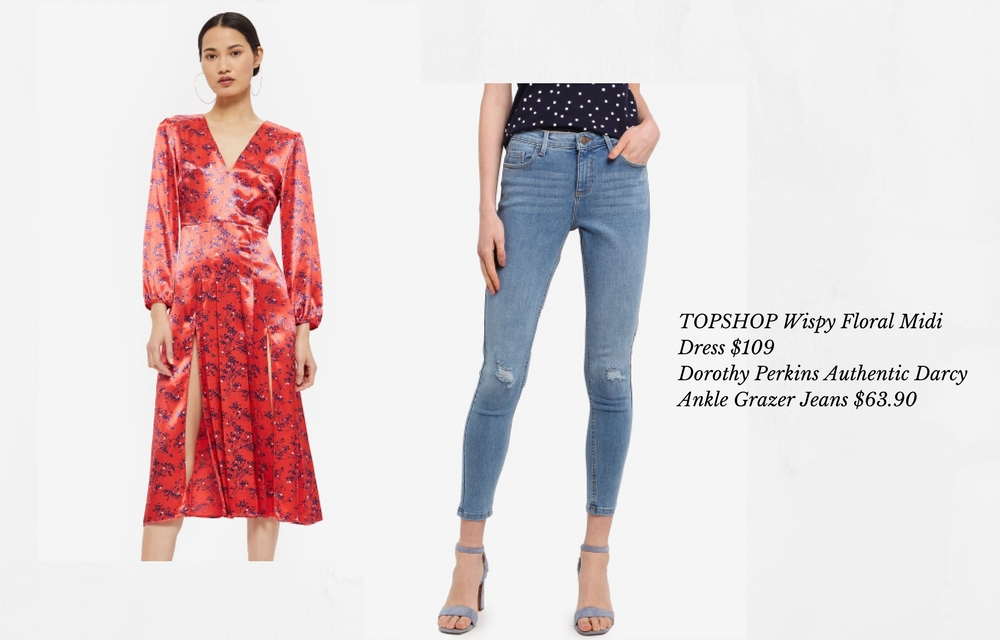 TOPSHOP Wispy Floral Midi Dress $109
Dorothy Perkins Authentic Darcy Ankle Grazer Jeans $63.90
It goes without saying that it is time for those extra sexy dresses with jaw dropping slits of yours to come out to play. There wouldn't be a chance for Mr. Wardrobe Malfunction to pop by now.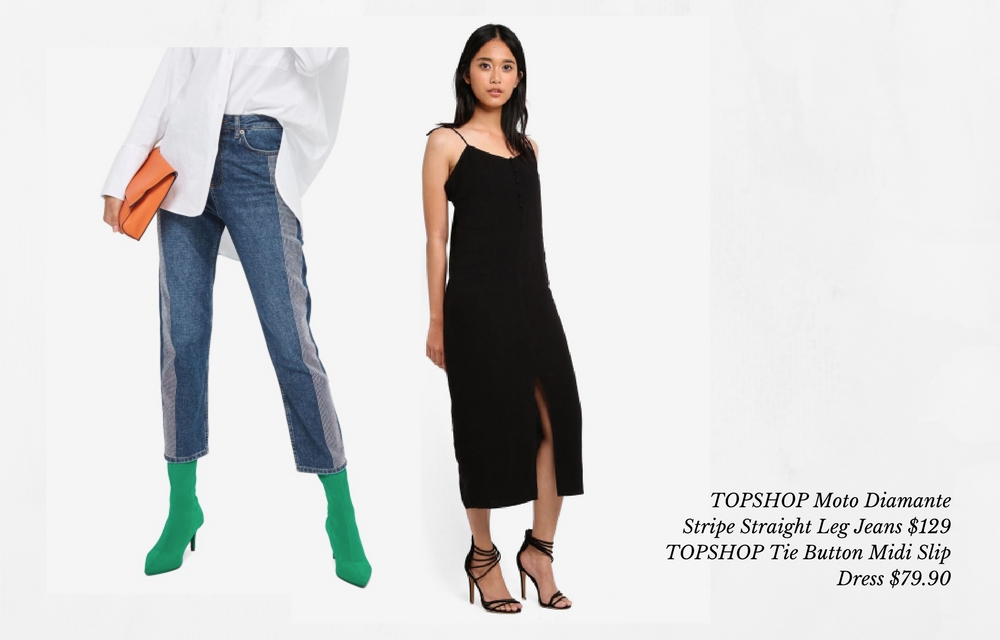 TOPSHOP Moto Diamante Stripe Straight Leg Jeans $129
TOPSHOP Tie Button Midi Slip Dress $79.90
The key to werking the dress over jeans look like a boss is to avoid looking heavy with the materials you put on. Slip dresses, amongst other potential pieces, are the ones that you can experiment this trend with. So slip into it already!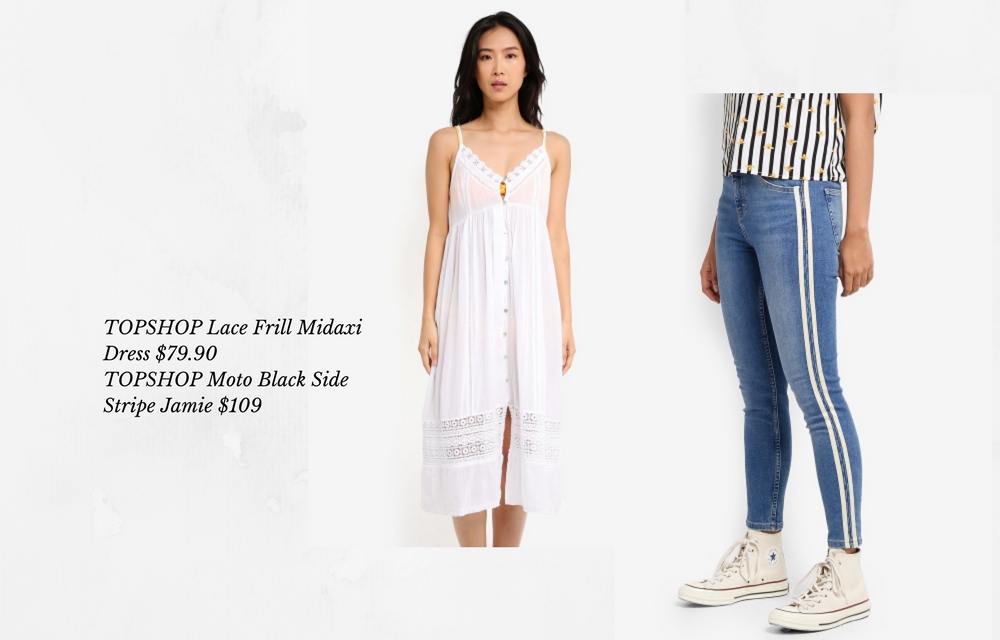 TOPSHOP Lace Frill Midaxi Dress $79.90
TOPSHOP Moto Black Side Stripe Jamie $109
Whoever said layering is an impossible task to do in Singapore certainly overlooked the dress over jeans trend. Layering is now possible with the dress over jeans look. Imagine the looks you'll create!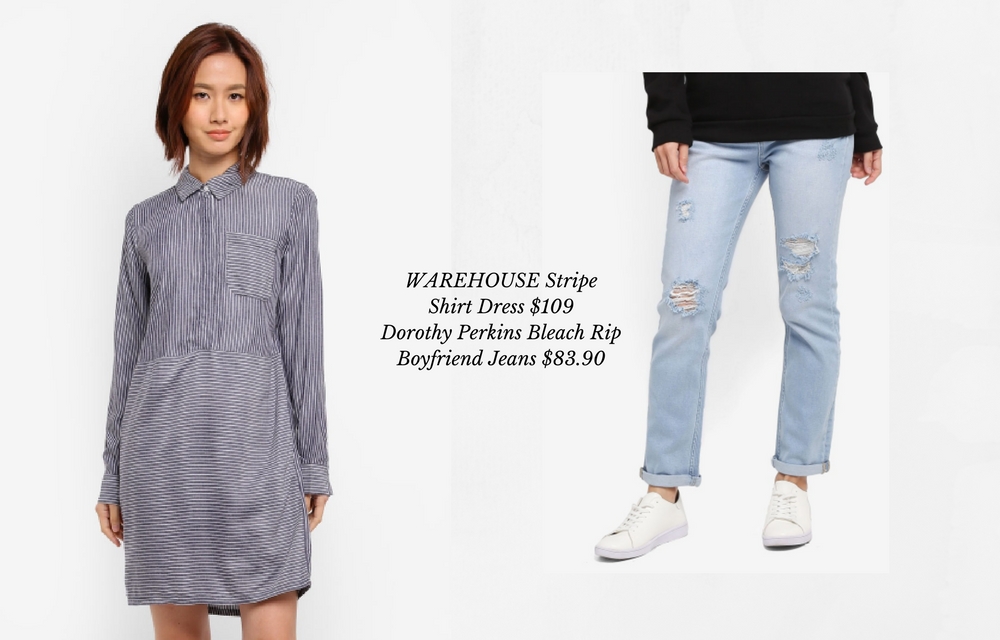 WAREHOUSE Stripe Shirt Dress $109
Dorothy Perkins Bleach Rip Boyfriend Jeans $83.90
Shirt dresses are the way to go if you are still a little conscious when it comes to incorporating the dress over jeans trend into your style. We mean, it's just wearing a slightly longer shirt right?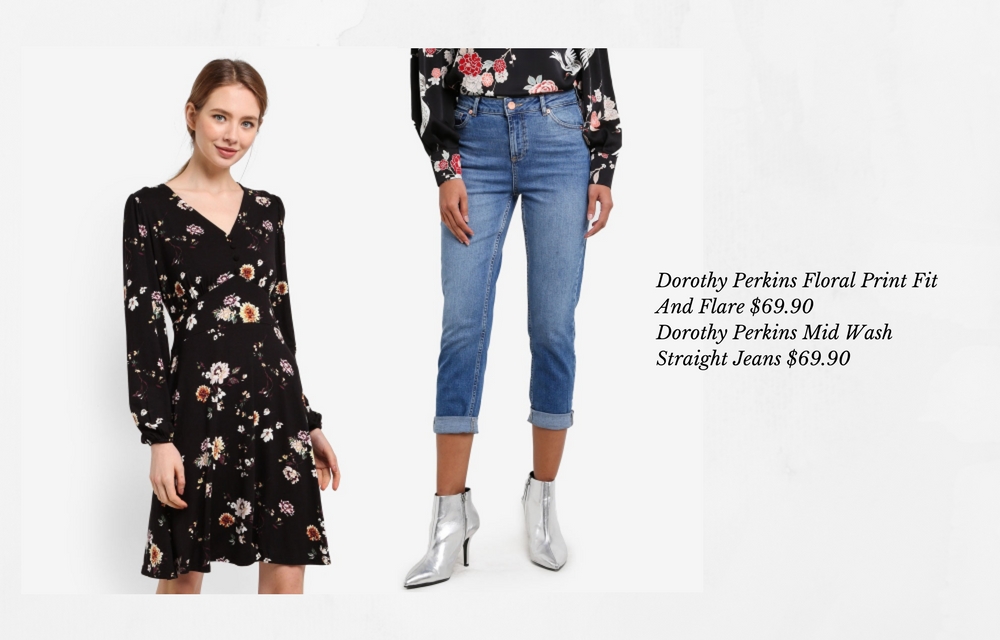 Dorothy Perkins Floral Print Fit And Flare $69.90
Dorothy Perkins Mid Wash Straight Jeans $69.90
Besides following the less is more theory of wearing dresses over jeans, your flowy dress can also be made of patterns with a slight pop of colour, like the Dorothy Perkins Floral Print Fit and Flare ($69.90)!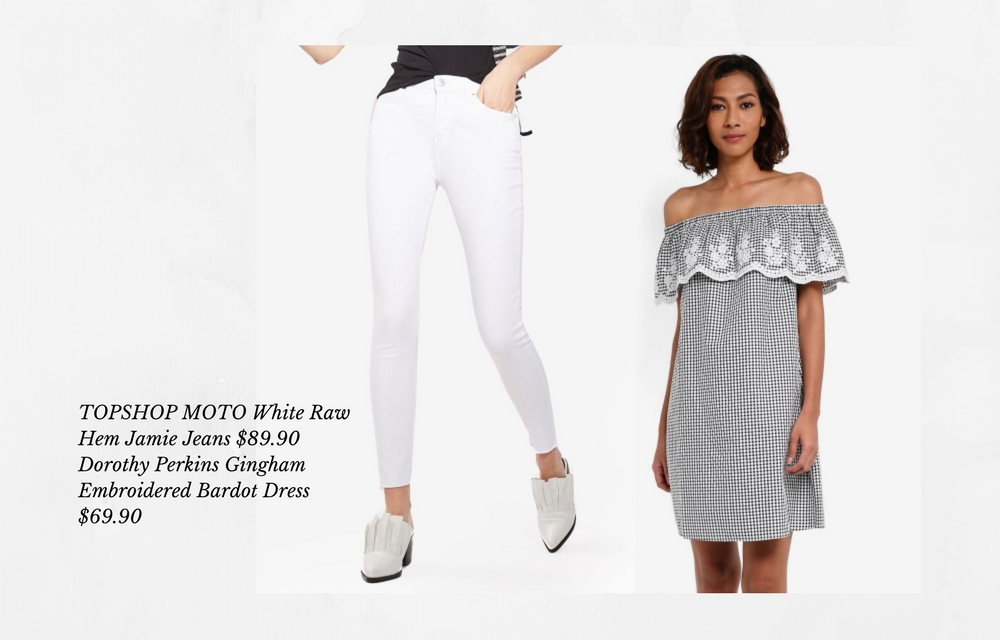 TOPSHOP MOTO White Raw Hem Jamie Jeans $89.90
Dorothy Perkins Gingham Embroidered Bardot Dress $69.90
Don't like the sleeves? Cut them and werk those off shoulder dresses with the dresses with jeans trend. When in doubt, think colour coordination. We didn't say your jeans has got to be strictly denim!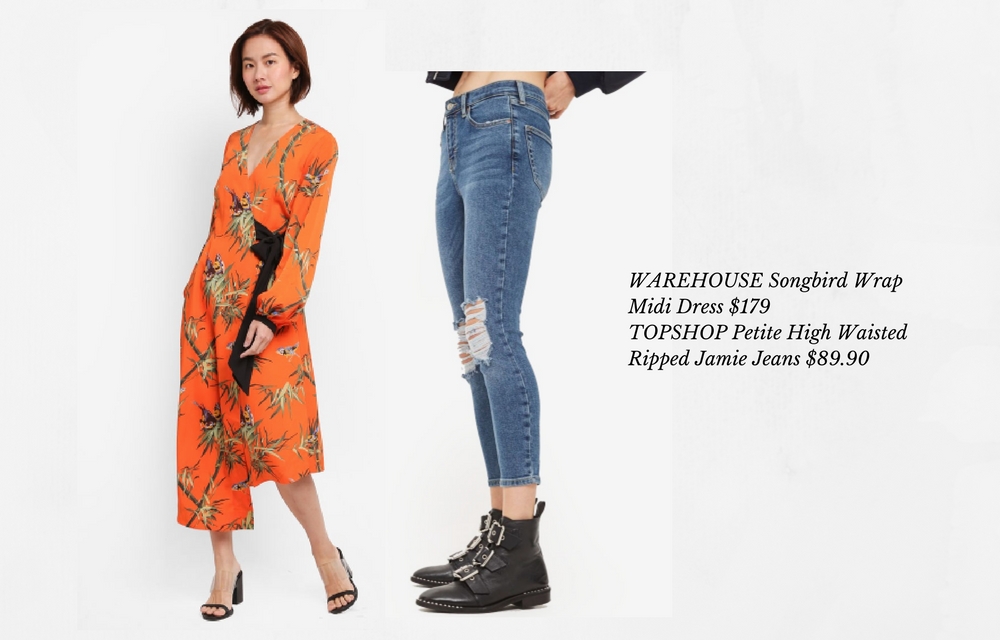 WAREHOUSE Songbird Wrap Midi Dress $179
TOPSHOP Petite High Waisted Ripped Jamie Jeans $89.90
Although asymmetrics seem like a rare piece to encounter these days, they will never go out of fashion in our hearts. Plus, did we mention asymmetric dresses are a great way to try out the dresses over jeans look?
TOPSHOP PETITE MDT Super Rip Jamie Jeans $93.90
Wallis Petite Black Floral Print Shirt Dress $139
It is absolutely okay if you just want to show that little bit of jeans while attempting to rock this trend; Extra long dresses can be worn to achieve the look too.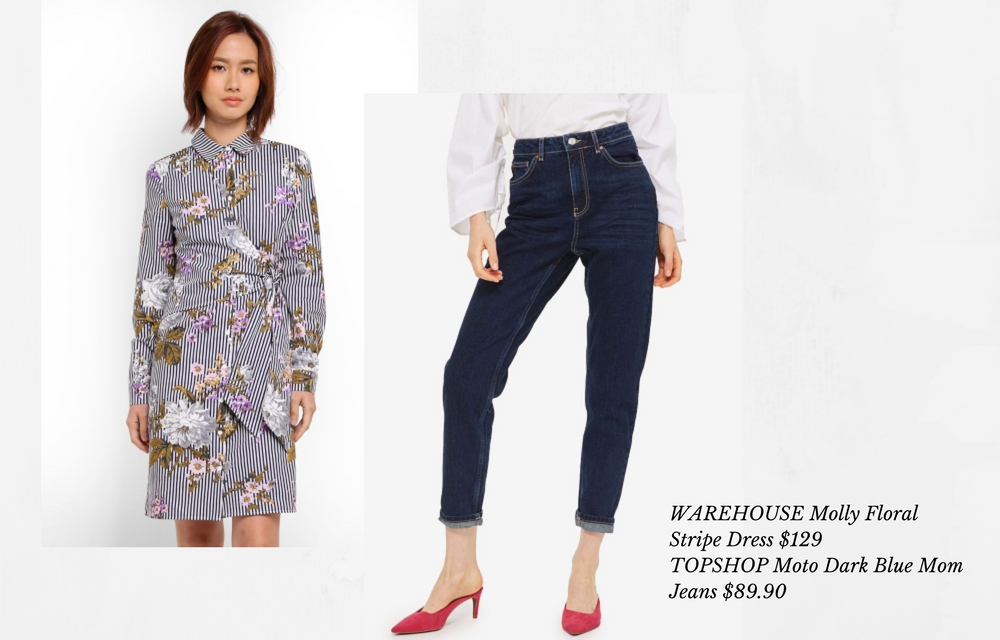 WAREHOUSE Molly Floral Stripe Dress $129
TOPSHOP Moto Dark Blue Mom Jeans $89.90
We don't mean wearing a button-less dress but button less! You don't have to button all the way to the bottom of your shirt dress. Leave some unbuttoned and you'll have another look right there already!