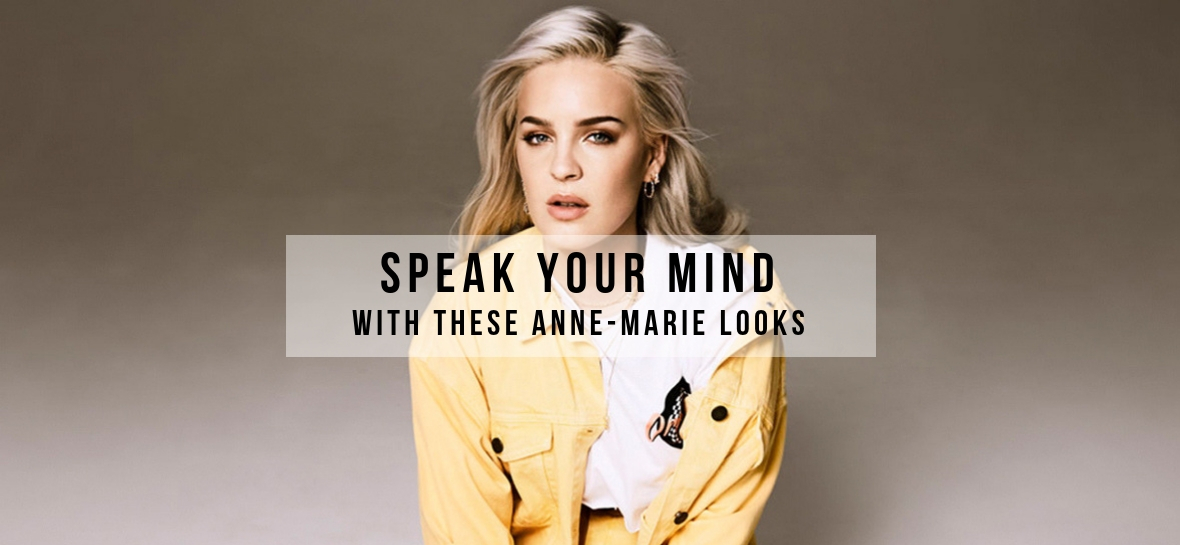 Even if you don't recognise her, we're sure that you've heard Anne-Marie's strong vocals on the radio. The 27-year old Brit, born Anne-Marie Rose Nicholson, has recently surged in popularity, reaching #1 on Billboard with her single with Marshmello, FRIENDS.
Not only did her unique voice capture our hearts, but her fashion choices have also made its way onto our list of must-haves. Characterised by crop tops and baggy pants, Anne-Marie exudes a strong street-style vibe that mirrors her bubbly and bold personality. Feeling as inspired as we are to re-create some of Anne-Marie's stunning looks after watching her music videos? Well keep on reading to find out how!
Just as the title suggests, the outfits featured in this music video brought a wave of nostalgia for all us. Although there were classic callbacks like the school girl uniform from Britney Spears' Baby One More Time, our favourite was Anne-Marie's bra top paired with high-waisted pants and a puffy jacket on top.
For this look, we opted for a bright windbreaker instead of a thick and puffy jacket. To suit Singapore's tropical weather, the windbreaker will be the perfect layering piece because it's light but still very 2000's-esque. Instead of a pair of plain pants and boots, we chose something more eye-catching to contrast the black bra top and some mesh boots for a subtle statement piece.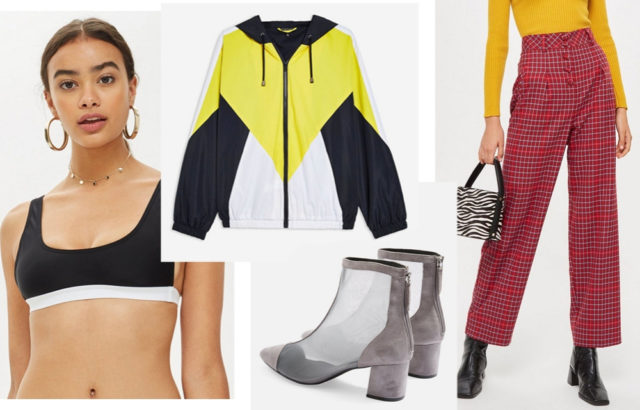 TOPSHOP Colour Block Crop Bikini Top S$33.90
TOPSHOP Colour Block Windbreaker Jacket S$89.90
TOPSHOP Briony Mesh Boots S$89.90
TOPSHOP Check Slouch Trousers S$96.90
Don't Leave Me Alone (David Guetta feat. Anne-Marie)
Anne-Marie's first dress caught our attention because it was so different compared to her usual street-style and we knew that we had to have this look. However,  the bright blue outfit also won us over as they matched the strong electronic beats of David Guetta.
So we've got a couple of options for you! A striped slip dress for those of us looking for something more loose-fitting and a cute pinafore dress that'll hug the body to accentuate your curves just like Anne-Marie's. And if you had hearts in your eyes for the blue number, here's a more everyday alternative in the form of a bodycon dress with some lace details for a feminine touch.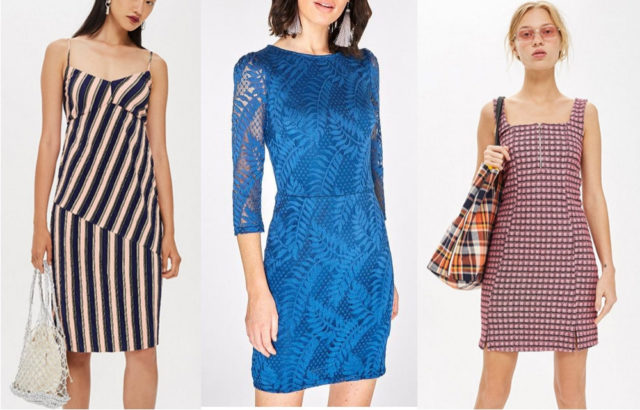 TOPSHOP Mix Stripe Slip Dress S$76.90
DOROTHY PERKINS Teal Leafy Lace Bodycon Dress S$89.90
TOSPHOP Petite Check Mini Pinafore Dress S$76.90
FRIENDS (Marshmello and Anne-Marie)
This earworm has been played on radio so often now but it's one we will never be tired of. Self-proclaimed to be the OFFICIAL FRIENDZONE ANTHEM (it's even in the title), this should be your go-to song if you want to establish clear friendship boundaries with someone.
Other than the beats that Marshmello laid down for this track, we're also digging Anne-Marie's house-party outfit. It's so casual and unpretentious that we're getting that trendy vibe that's super easy to put together.
While you can go for the usual white or black crop top, we decided to add a splash of colour with this green crop top. We paired this with a simple pair of black jeans and chose a baker boy hat as a statement piece. Try and keep up with Anne-Marie's tough-as-nails aura in this video by grabbing some platform boots and let everyone know not to mess with you.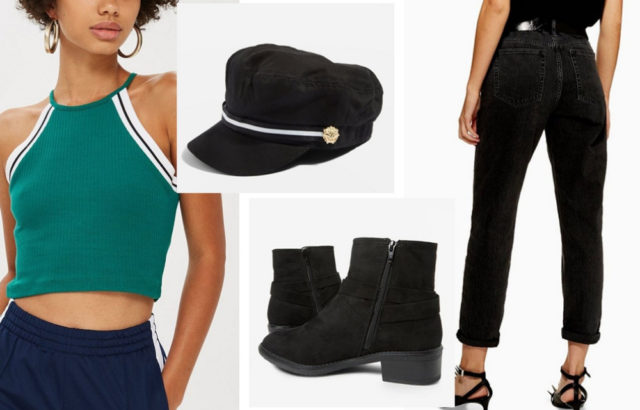 TOPSHOP Petite Raya Vest Top S$16.90
TOPSHOP Lion Trim Baker Boy Hat S$36.90
DOROTHY PERKINS Mirage Western Boots S$79.90
TOPSHOP MOTO Washed Black New Boyfriend Jeans S$99.90
Let Me Live (Rudimental and Major Lazer feat. Anne-Marie & Mr. Eazi)
Anne-Marie opens the video in an earth-toned street-style outfit, topped off with a huge fur coat and quickly switches things up with blue and yellow athleisure look in the second verse. In order to get the best of both worlds,we've come up with an outfit that pays homage to both of Anne-Marie's iconic looks.
While we've opted for a more monotone colour palette to bring this look together, it doesn't mean that it'll be anything short of fashionable and fantastic. To recreate that sporty vibe, we've picked out a pair of slim-fit track pants and chunky holographic trainers that'll surely make a statement. The white lace bodysuit covers up just enough while remaining fitted and sexy and over that, we can't forget the lovely fur coat that Anne-Marie had on so we chose this luxurious long jacket with similar faux fur trimmings on the front.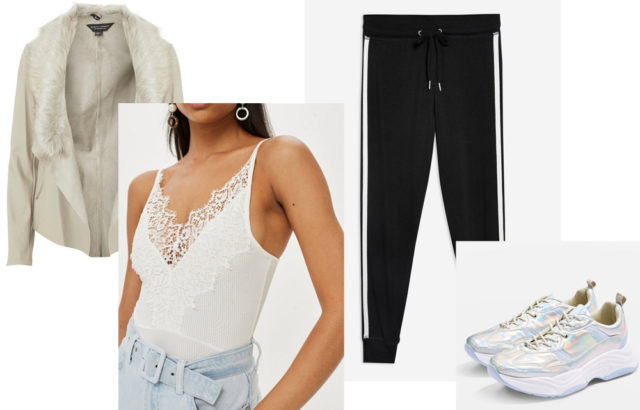 DOROTHY PERKINS Neutral Faux Fur Waterfall Jacket S$109
TOPSHOP Petite Lace Trim Bodysuit S$43.90
TOPSHOP Petite Side Striped Slim Joggers S$49.90
TOPSHOP Ciara Chunky Trainers S$89.90
Want an occasion to strut your stuff in these inspired looks? You're in luck! The pop-sensation will be live with her Speak Your Mind Tour on 22nd October 2018 at Zepp @ Bigbox. Grab your tickets now from APACtix before they sell out!