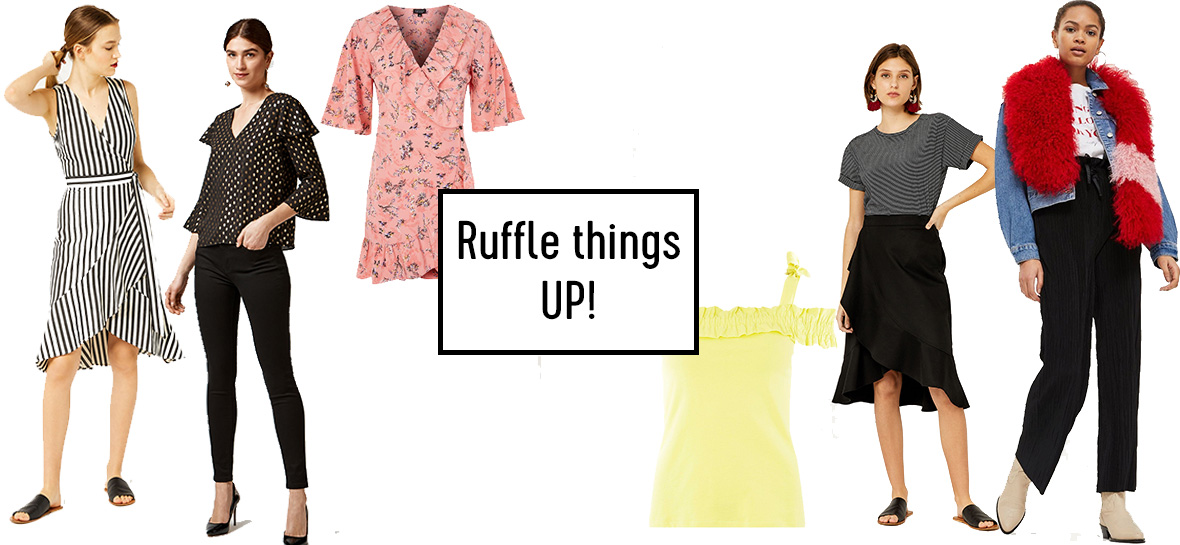 So what is the latest fashion thrill? Frills! Let's be honest here, we need ruffles, and we need them now.
If you're looking to add some ruffles to your dress outfits for work, dates or a simple brunch with your friends, here are some to add to the wardrobe.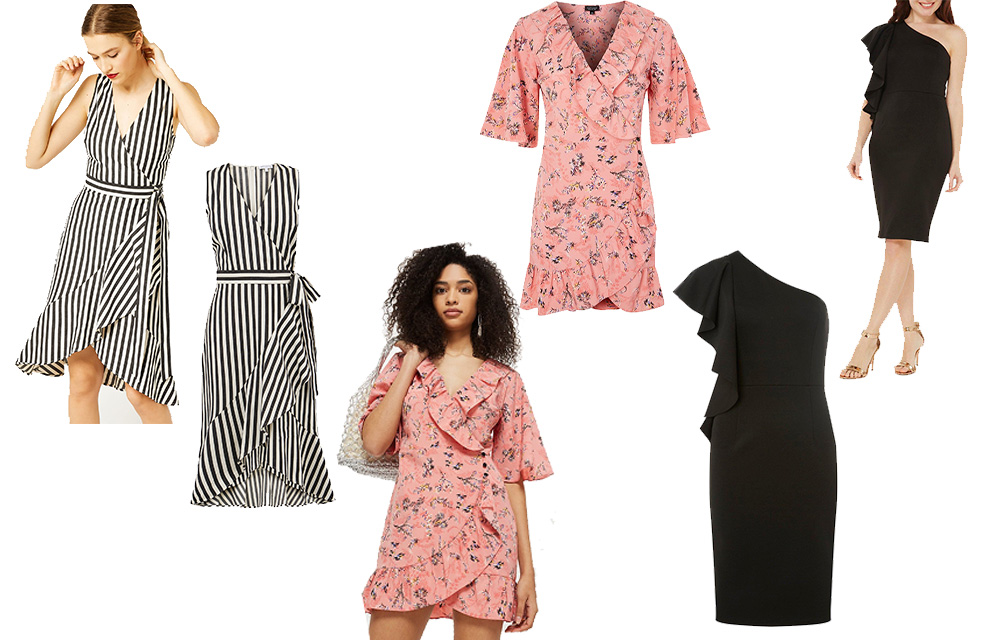 From left to right:
WAREHOUSE – Cotton Stripe Wrap Dress $129
Topshop – Off Duty Ruffle Tea Dress $79.90
Dorothy Perkins – One Shoulder Ruffle Pencil Dress $89.90
Have frills in three ways! First, a dress that fits almost all occasion, work, party and a date. Second, an ideal outfit for a brunch or a date will be this pink wrap ruffle dress – both fun but sophisticated. Third, a simple one shoulder ruffle pencil dress that's suitable for office wear, a wedding or a dinner event. What more can we ask for?
Frilly tops are incredibly versatile. Here's how you crazy functional these pieces are!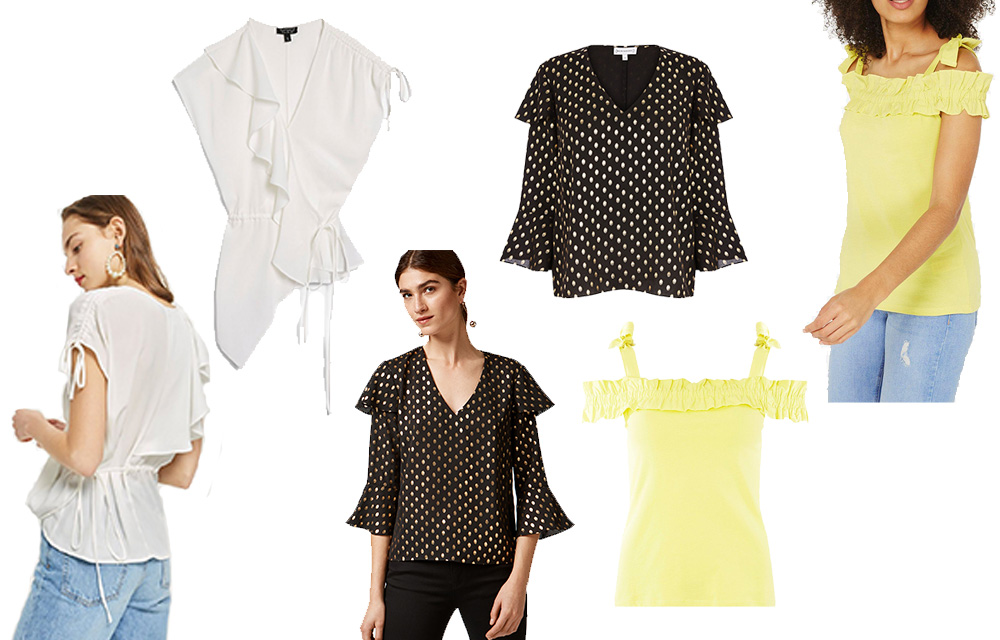 From left to right:
Topshop – Ruffle Asymmetric Drawstring Top $76.90
WAREHOUSE – Metallic Spot Ruffle Top $ 89.90
Dorothy Perkins – Yellow Ruffle Cold Shoulder  $36.90
Ruffles with an asymmetric cut? Definitely a top that screams flirty but doesn't fret about your shape getting lost in the frills. Its' drawstring detail is perfect for flaunting your waistline.  You can also tone it down with a black and gold frill combi for a bolder statement look. Or… brighten it up with a yellow cold shoulder sprinkled with ruffle trimmings to accentuate those shoulders and collarbones!
For ladies who want are a little more bottom heavy, these ruffle pieces will hit you in all the right places and do your booty justice.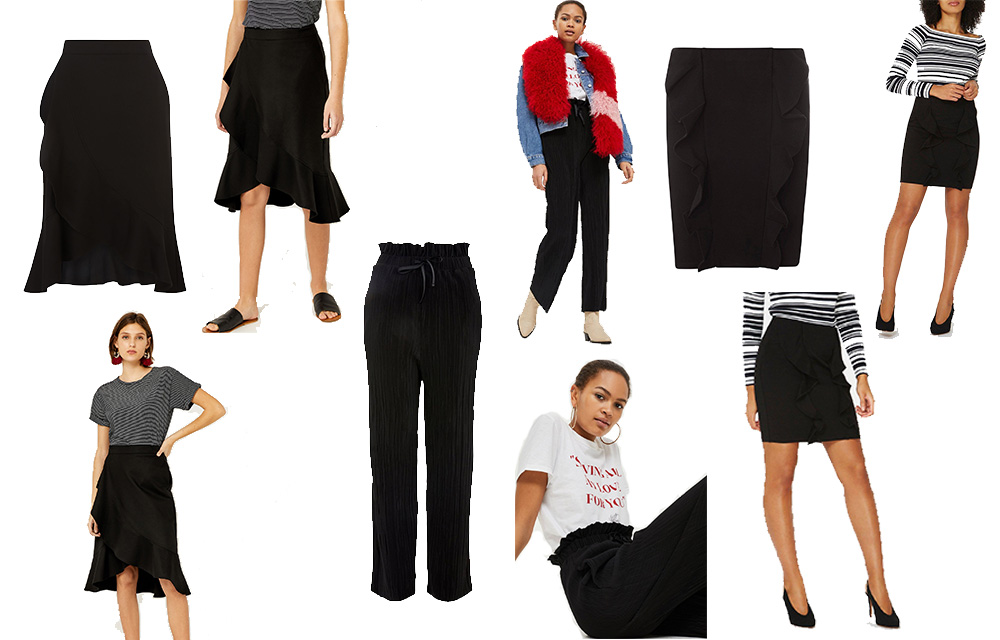 From left to right:
WAREHOUSE – Compact Cotton Ruffle Skirt $109
Topshop – Ruffle Waist Cropped Plisse Trousers  $79.90
Dorothy Perkins – Black Double Ruffle Mini Skirt $36.90
Switch up plain black trousers with a ruffle waist or a mini skirt with double ruffles both definitely give off more personality. Or explore a dressier number and opt for a classy black skirt with ruffles that give an extra goddess flow.
Minute ruffle detailing makes a huge difference! Add them to your wardrobe and time to chuck out the boring, over worn black bottoms.