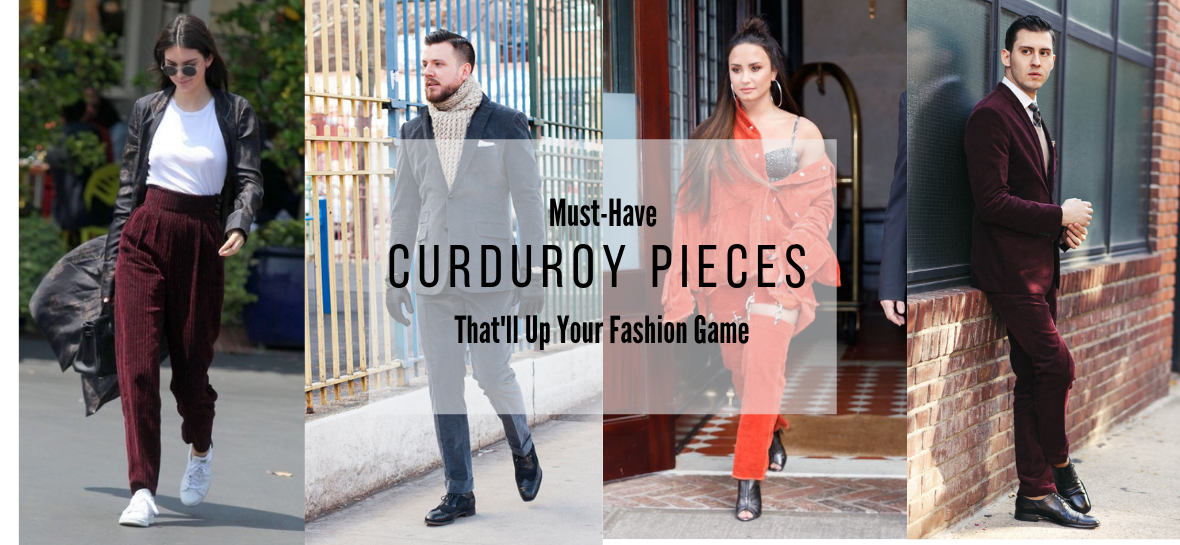 For years, corduroy has been left out in the cold, much in part to its bookish credentials but, thanks the industry's love affair with retro revivals, it has successfully made the move from the classroom to the catwalk. This '70s-style ridged fabric has long been the uniform of academics, but this autumn, it's been given a fashion makeover. Check out some of the best corduroy fashion to shop for fall, ahead.
For Autumn/Winter 2018, the notoriously unsexy fabric has clawed its way back into the fashion fold. Release the creative fashionista in you when you add florals to your corduroy pieces!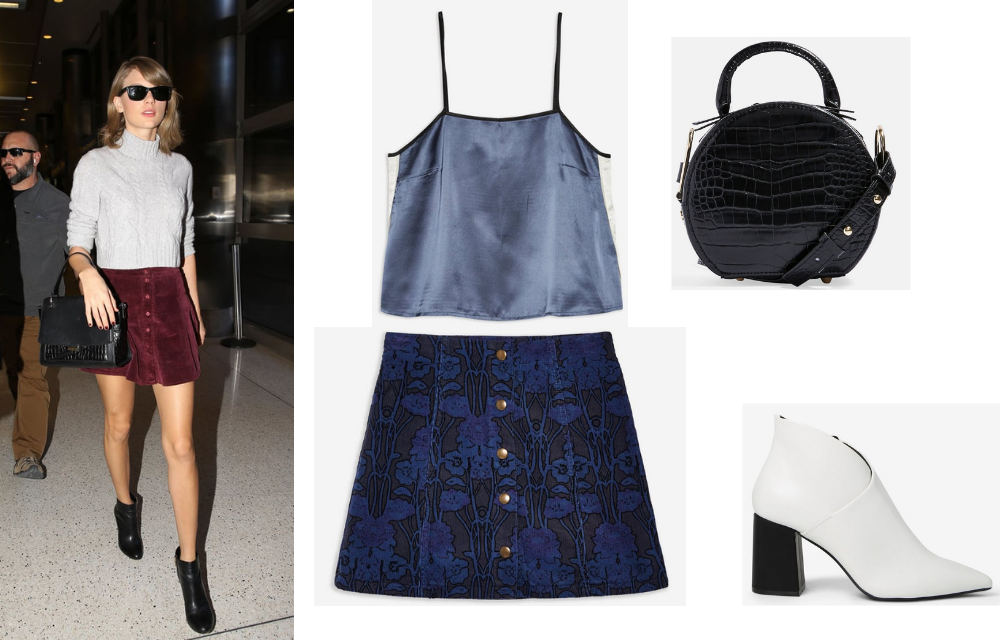 TOPSHOP Colour Block Satin Cami Top S$49.90
TOPSHOP Floral Corduroy Mini Skirt S$66.90
TOPSHOP Blair Circle Cross Body Bag S$56.90
DOROTHY PERKINS White 'Annie' Pointed Ankle Boots S$89.90
I know we emphasized enough on animal prints this season! But what makes this a power outfit is when you layer animal prints with corduroy!

TOPSHOP Snake Print Bodysuit S$46.90
TOPSHOP PETITE Corduroy Zip Through Dress S$76.90
DOROTHY PERKINS Brown Snake Print 'Annika' Chelsea Boots S$89.90
DOROTHY PERKINS Metallic Snake Print Twist Lock Clutch S$39.90
Instead of neutral colours, you can opt for spotted corduroy jacket paired with a pair of spotted classic heels! With a touch of green to your outfit, you will definitely steal the show at any occasions!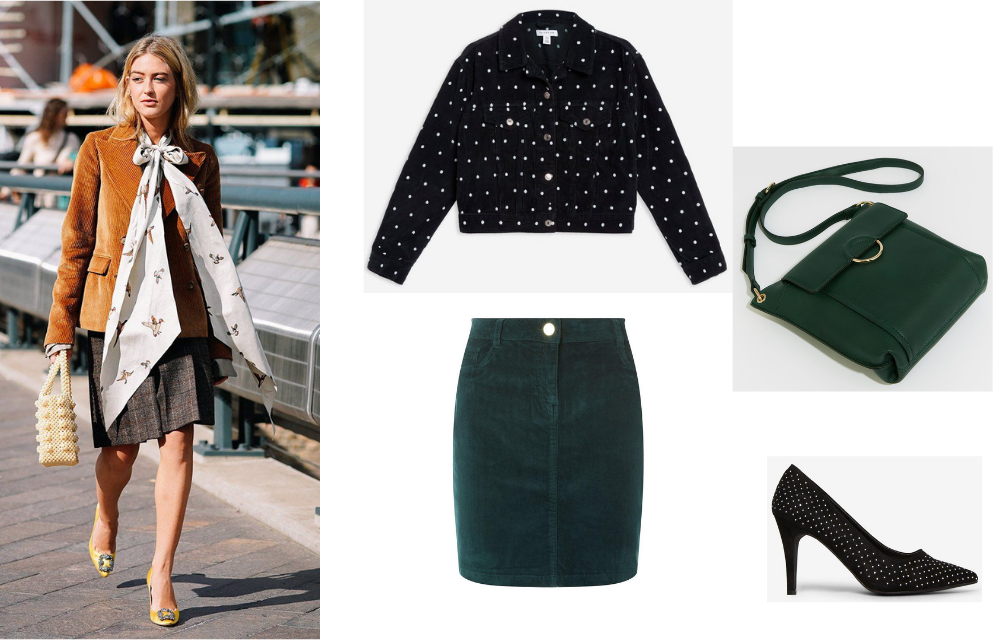 TOPSHOP Spotted Corduroy Jacket S$116
DOROTHY PERKINS Green Corduroy Skirt s$59.90
WAREHOUSE Ring Pocket Crossbody Bag S$46
DOROTHY PERKINS Black Microfibre 'Gracie' Embellished Court Shoes S$73.90
Corduroy is to fall what linen is to summer: a fabric that just feels right for the time of year, both in terms of comfort and aesthetic.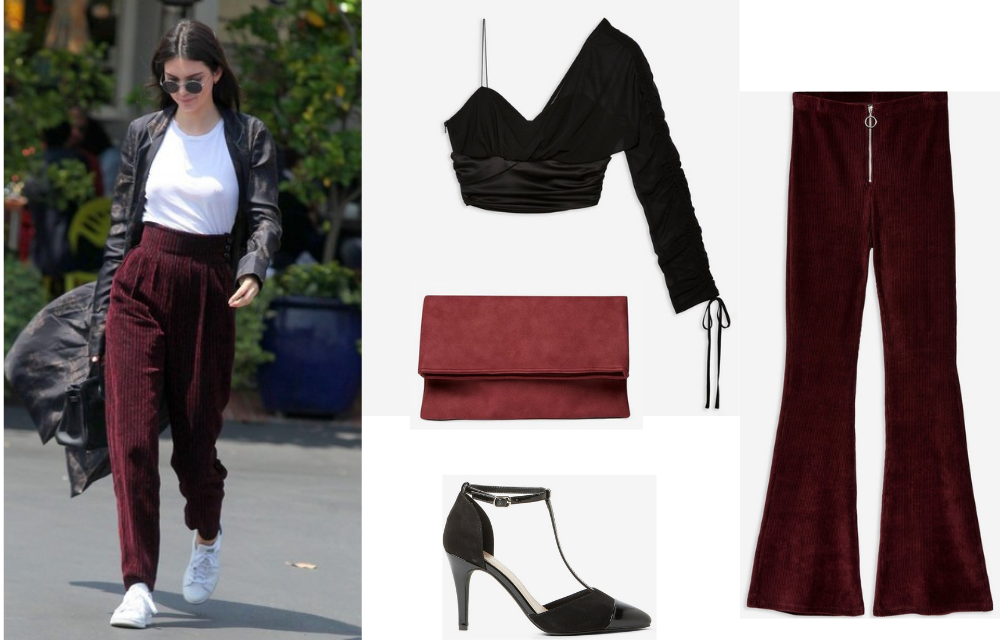 TOPSHOP One Sleeve Bustier Top S$96.90
TOPSHOP TALL Corduroy Flares S$66.90
DOROTHY PERKINS Pieces Wine 'Kaden' Cross Body Bag S$83.90
DOROTHY PERKINS Wide Fit Black Microfibre 'Game' Court Shoes S$73.90
A blazer is not only super stylish especially when you dress yours up with a smart trousers that can definitely add depth to your outfit with this ensemble.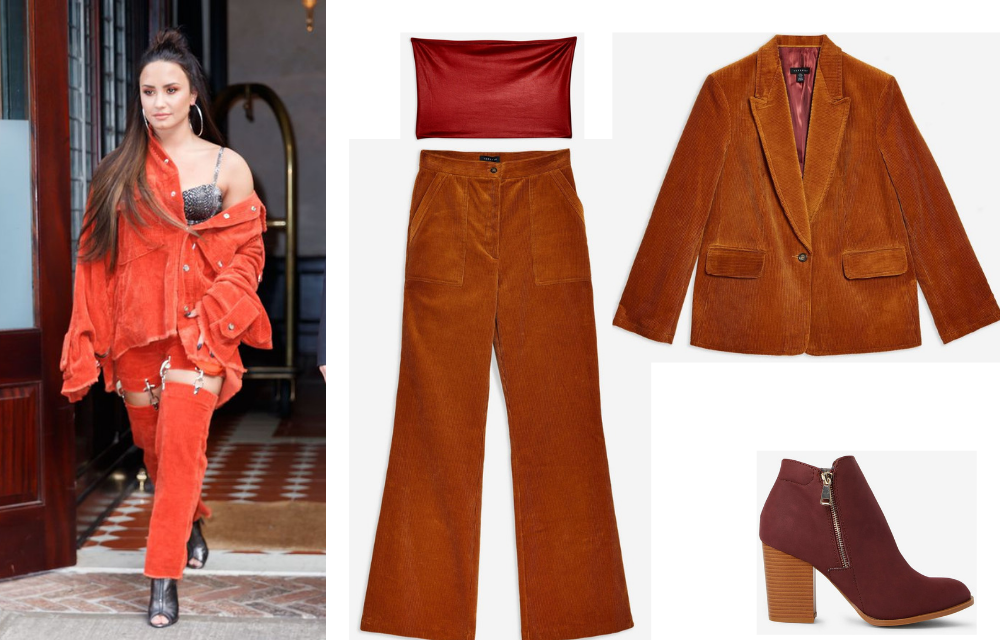 TOPSHOP PU Bandeau Top S$26.90
TOPSHOP Corduroy Suit S$265
DOROTHY PERKINS Burgundy 'Antonia' Boots S$99.90
How chic can you get with corduroy pants, a pretty bandeau paired a classic leather jacket and sling-black heels?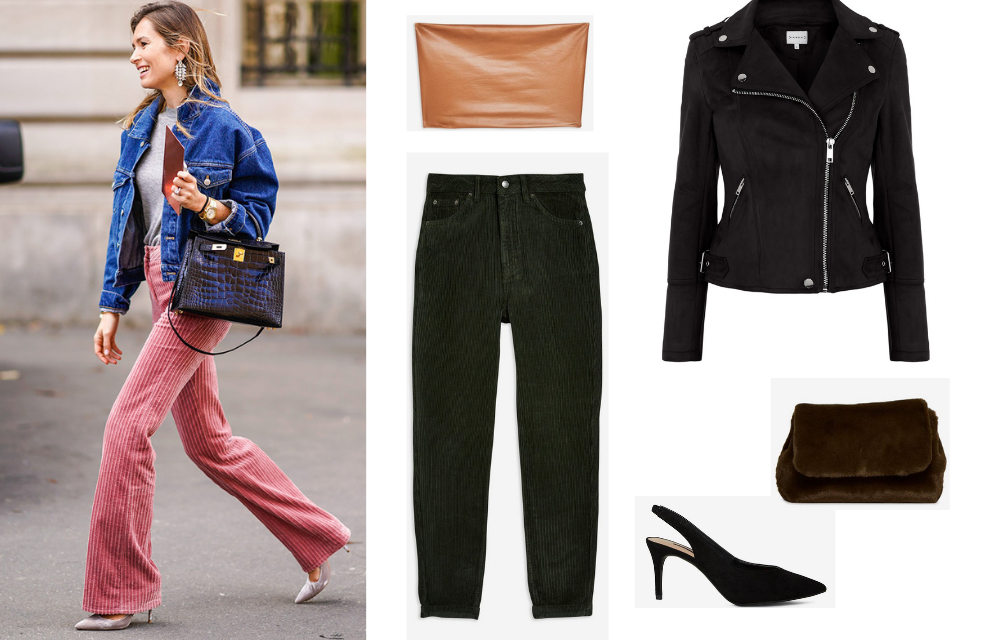 TOPSHOP PU Bandeau Top S$26.90
TOPSHOP Forest Green Corduroy Mom Jeans S$96.90
WAREHOUSE Quilted Suedette Biker S$116
DOROTHY PERKINS Pieces Khaki 'Kindra' Cross Body Bag S$66.90
DOROTHY PERKINS Black 'Essie' Slingback Court Shoes S$56.90
Corduroy is having a serious comeback and will look great teamed with a simple t-shirt or a relaxed hoodie.

TOPMAN SELECTED HOMME Brown T-Shirt S$49.90
TOPMAN LEVI's Brown Corduroy Sherpa Lined Denim Jacket S$253
TOPMAN Orange Check Slim Cropped Joggers S$109
TOPMAN Black Prism Brogues S$143
Here's how you do a preppy look with corduroy without having to worry about looking like a nerd!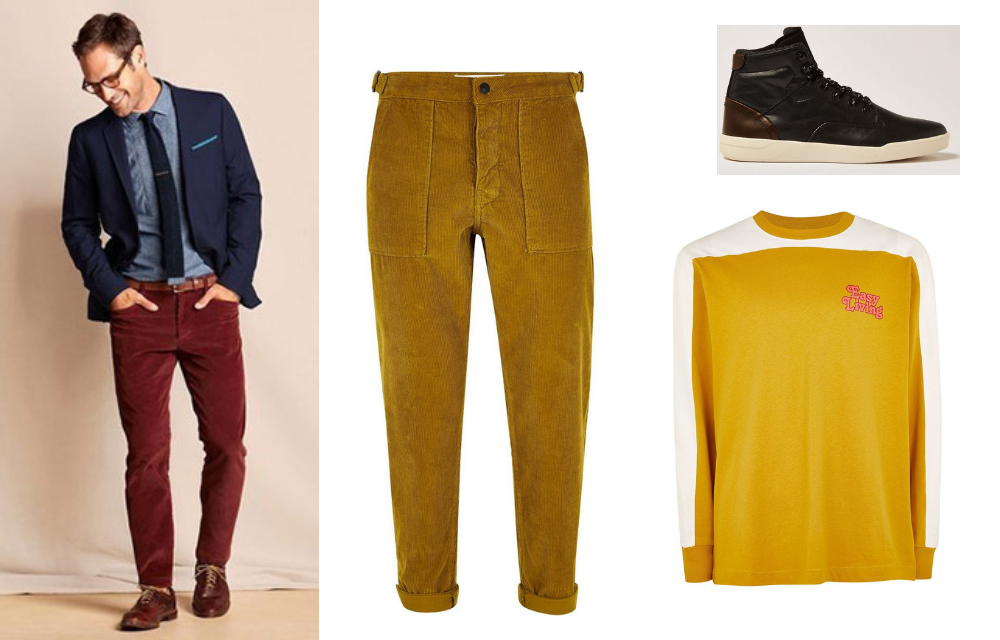 TOPMAN Yellow 'Easy Living' Long Sleeve T-Shirt S$46.90
TOPMAN Golden Corduroy Tapered Trousers S$103
TOPMAN Black Ranger Hi Top Boots S$116
A fine pair of corduroy jeans can be just the piece you need to add some textures to your wardrobe this season.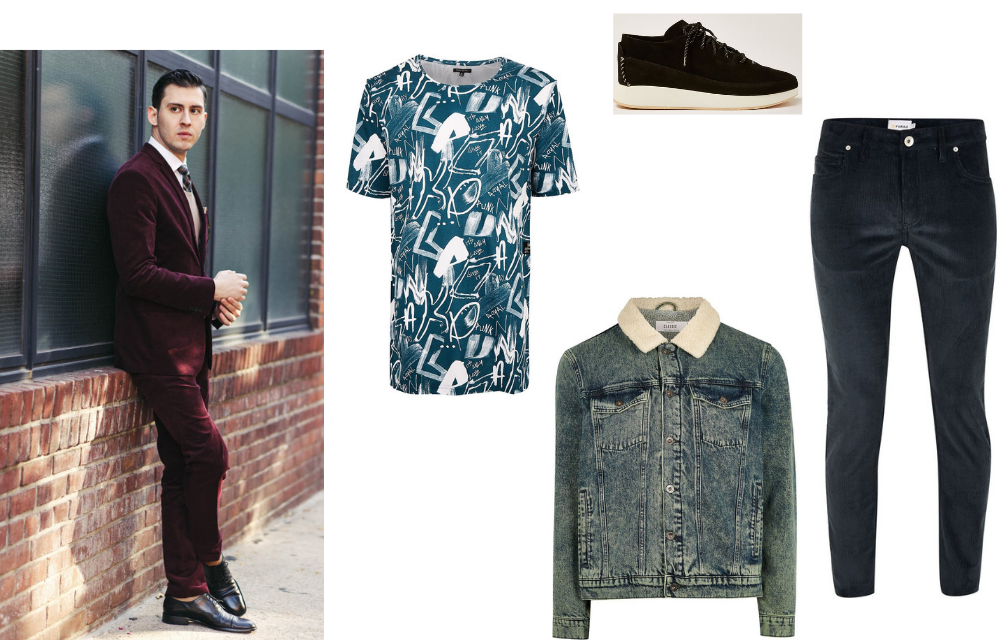 TOPMAN PUNK ROYAL Blue Graffiti Printed T-Shirt S$63.90
TOPMAN Green Acid Wash Borg Denim Jacket S$149
TOPMAN FARAH Navy 'Drake' Corduroy Trousers S$169
TOPMAN CLARKS ORIGINALS Black Kiowa Trainers S$286
You don't always have to dress it up with a bulky outerwear! Throw on a denim jacket or ditch the outerwear altogether and you'll still look put together in these babies.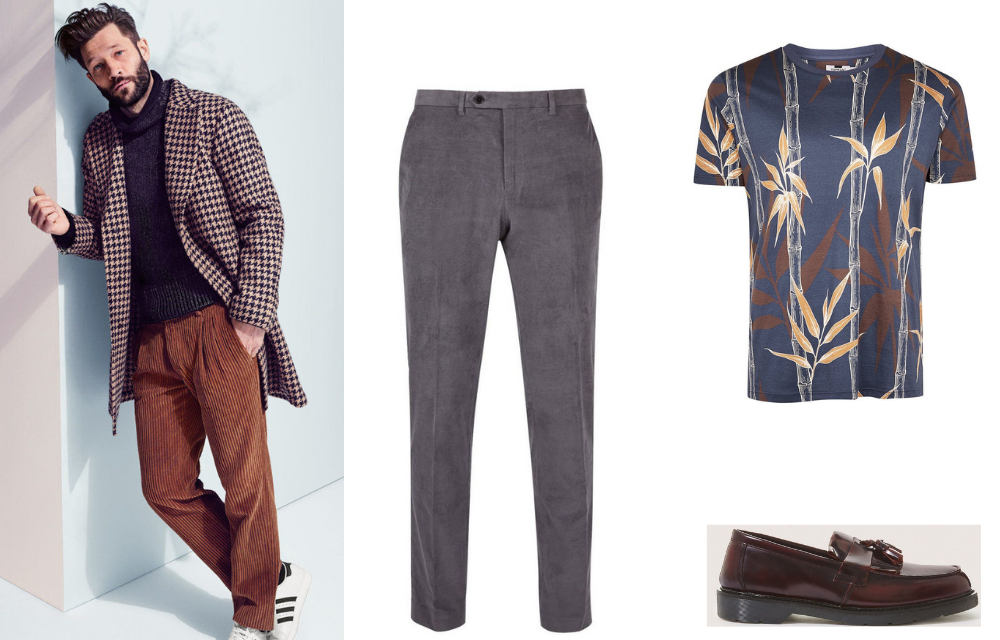 TOPMAN Navy Floral Print T-Shirt S$39.90
BURTON Grey Stretch Skinny Fit Corduroy Trousers S$50.45
TOPMAN Burgundy Leather Slater Penny Loafers S$153
But then again, if you DID plan on incorporating corduroy into your daily office wear, who's to stop you! We'll guarantee that you'll look like a million bucks in a full suit made from this unique fabric.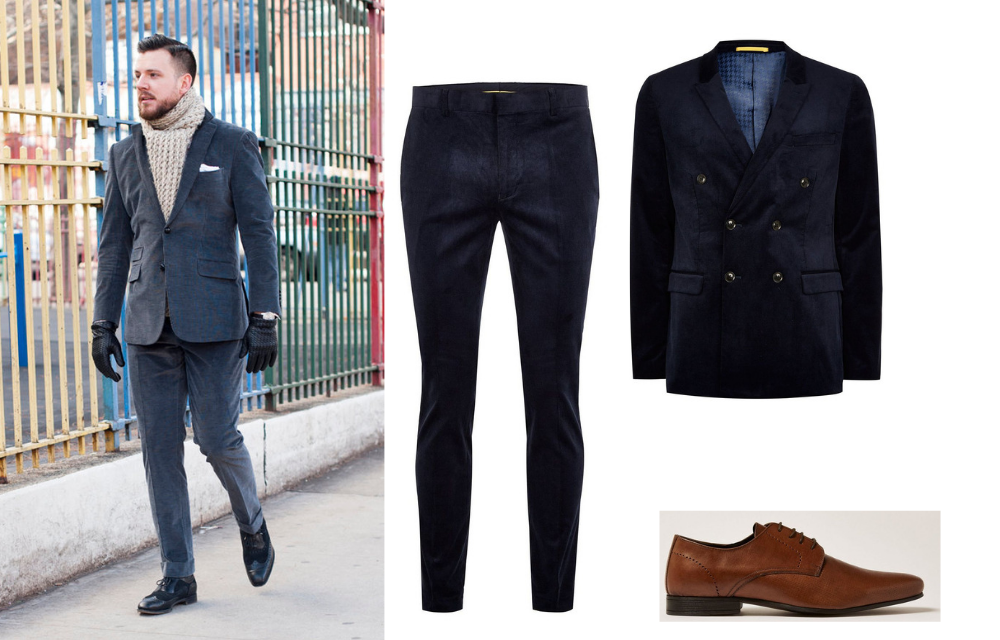 TOPMAN Navy Corduroy Double Breasted Ultra Skinny Suit Jacket S$233
TOPMAN Navy Corduroy Ultra Skinny Suit Trousers S$103
TOPMAN Tan Leather Brent Embossed Derby Shoes S$69.90