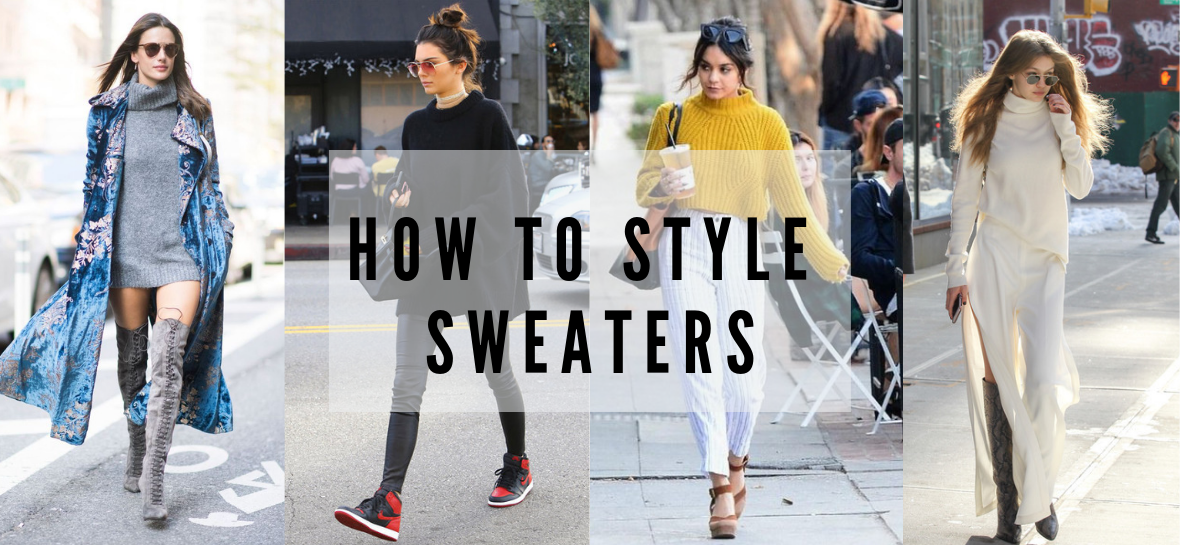 From that itchy feeling you'd get on bare skin to the way it only ever wants to look like a potato sack; sweater weather can be one of the toughest times of the season!
Here are some of the tips and tricks to style your sweaters!
Just because your shirt's under your sweater doesn't mean you can't show it off! Alternatively, you can also choose to roll up the sleeves of your sweater to let the details of your shirt peek through.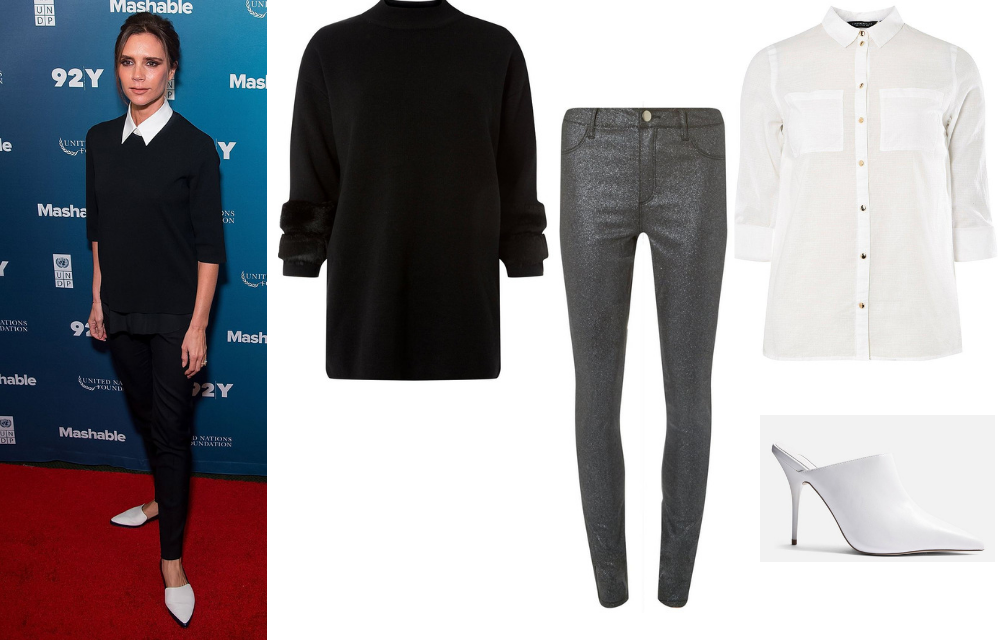 DOROTHY PERKINS Black Faux Fur Cuff Longline Jumper S$76.90
DOROTHY PERKINS White Gold-Button Shirt S$53.90
DOROTHY PERKINS Black Glitter Frankie Jeans S$69.90
TOPSHOP GODIVA Pointed Mules S$116
If you're someone who lives for her black leggings, swapping them out for leather ones is the type of compromise you'll agree to. The change in material of your leggings may be a small detail, it's makes a huge difference in your outfit.
Finish this casual look with a clean pair of white sneakers during the day or a pair of black heels for a night out!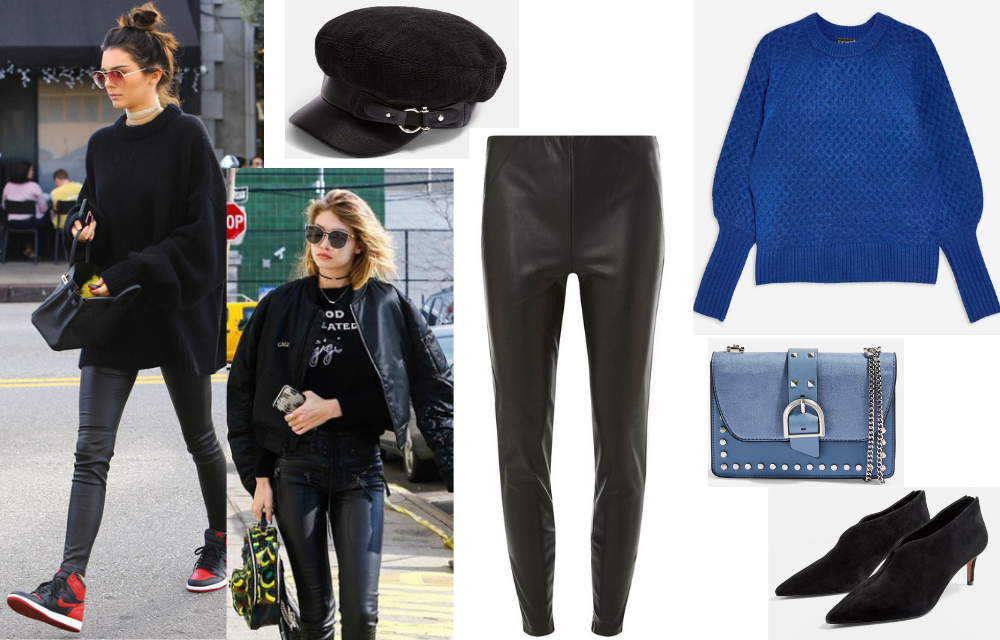 TOPSHOP Super Soft Honeycomb Jumper S$89.90
DOROTHY PERKINS Black PU Pull On Leggings S$63.90
TOPSHOP JESTER Pointed Shoe Boots S$116
TOPSHOP Buckle Chenille Baker Boy Hat S$36.90
TOPSHOP Bonte Suede Shoulder Bag S$66.90
From going to the office to attending a dinner with friends, this outfit is sophisticated and has a touch of elegance that makes it irreplaceable.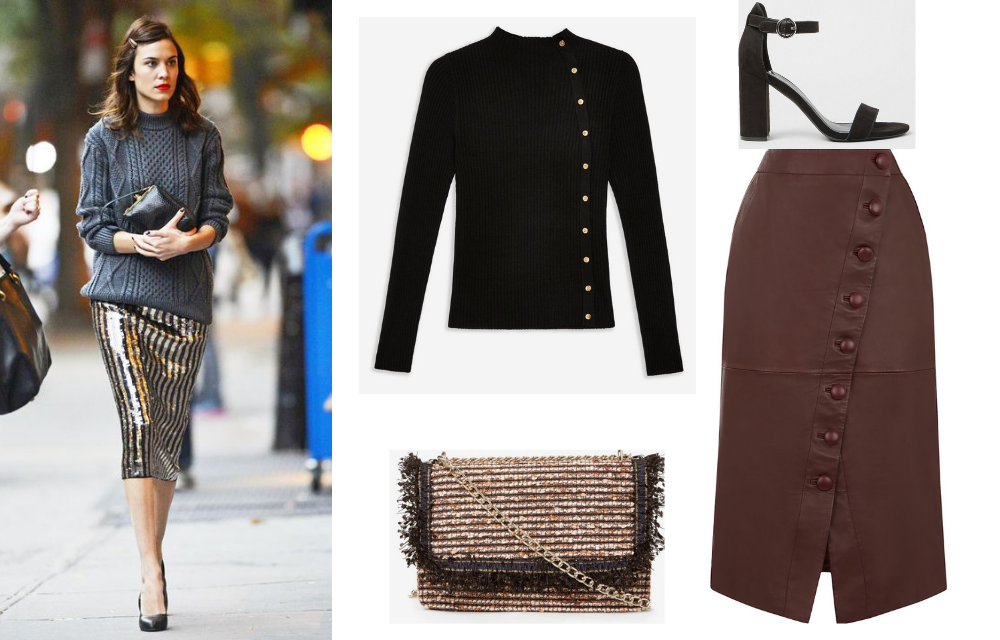 TOPSHOP Side Button Jumper S$56.90
WAREHOUSE Leather Button Midi Skirt S$265
DOROTHY PERKINS Pieces Black 'Kadence' Cross Body Bag S$83.90
DOROTHY PERKINS Wide Fit Black 'Shimmy' Block Heel Sandals S$ 63.90
Reinvent yourself with a modern silhouette! Pick an outfit that has a similar print to your sweater and you'll surely level up your fashion game!
You can make your dress more casual with a pullover and still look put together.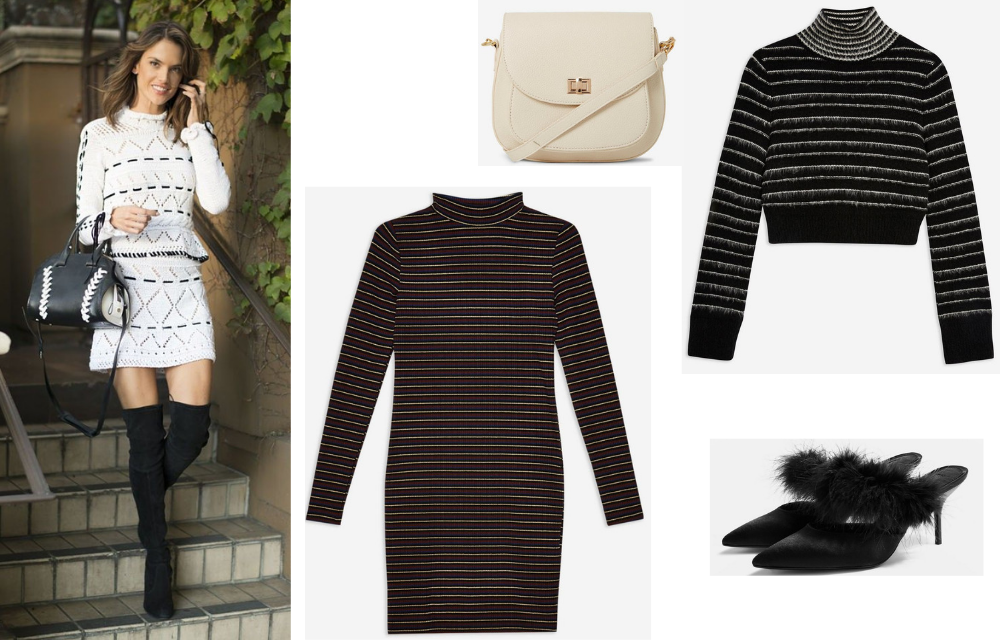 TOPSHOP Tall Stripe Funnel Cropped Jumper S$79.90
TOPSHOP Metallic Thread Stripe Funnel Neck Dress S$56.90
TOPSHOP JINGLE Feather Mules S$89.90
DOROTHY PERKINS Cream Bone Pocket Front Saddle Cross Body Bag S$53.90
 There Can Only Be One (Colour)
There's no need to worry about your top and bottoms matching when they're literally the same colour. Play around with textures and pair your outfit with a classy clutch bag !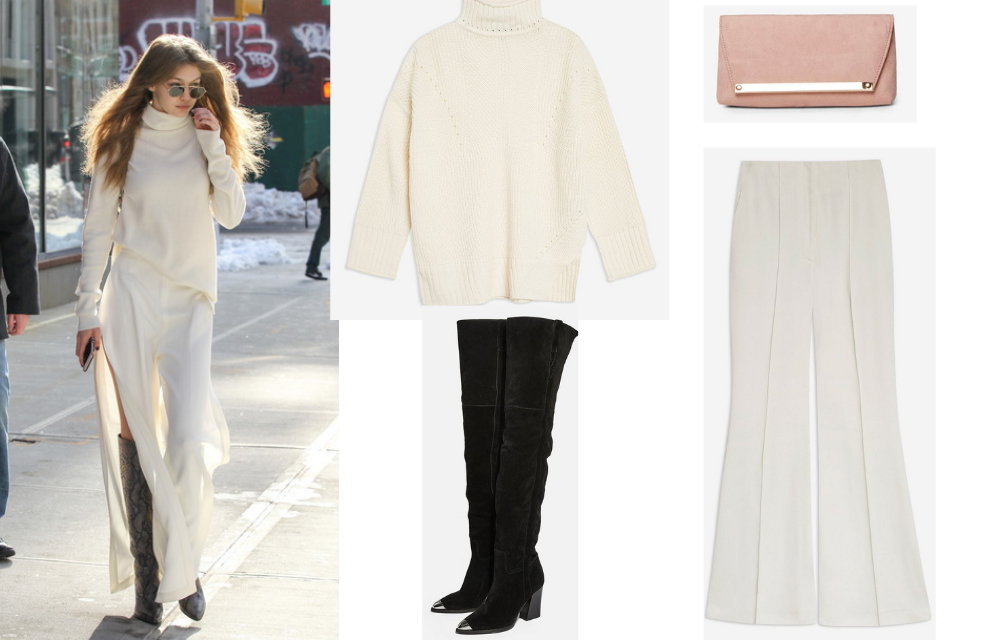 TOPSHOP Roll Neck Jumper S$79.90
TOPSHOP Flare Trousers by Boutique S$196
TOPSHOP Bass Chain Over The Knee Boots S$229
DOROTHY PERKINS Blush Envelope Clutch Bag S$29.90
Get Down to the Fine Prints
Give you simple cowl neck jumper a little more oomph by adding textures and prints. Pair it with a set of checkered or corduroy pants and you'll be centre of attention!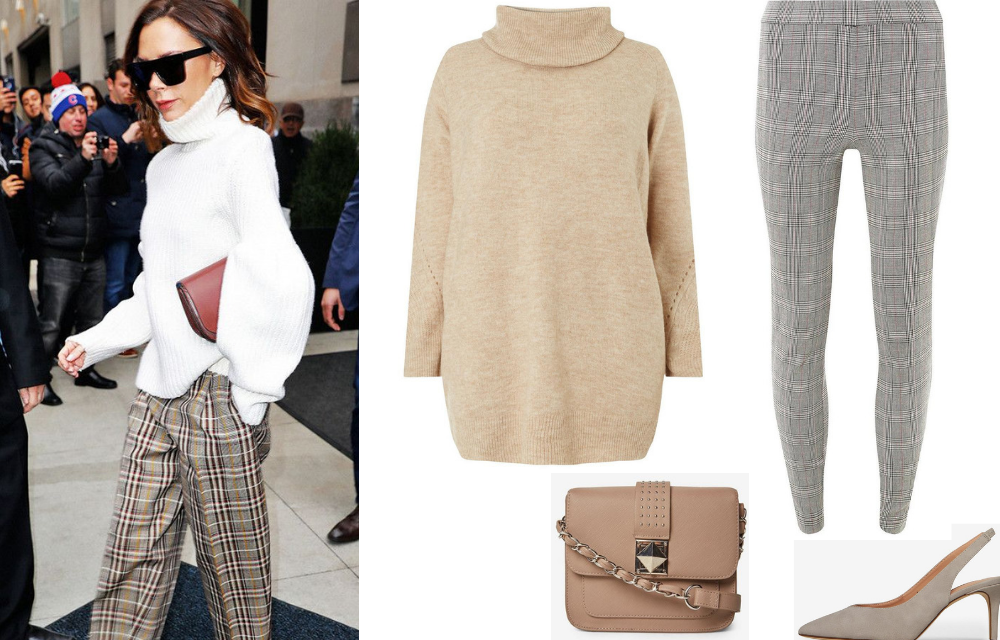 DOROTHY PERKINS DP Curve Beige Cowl Neck Jumper S$66.90
DOROTHY PERKINS Multi Coloured Checked Skinny Stretch Trousers S$59.90
DOROTHY PERKINS Mushroom Pyramid Cross Body Bag S$56.90
DOROTHY PERKINS Grey Slingback 'Essie' 80's Court Shoes S$63.90
That one style that refuses to leave everyone's trending lists because we just can't get enough of it – the crop top.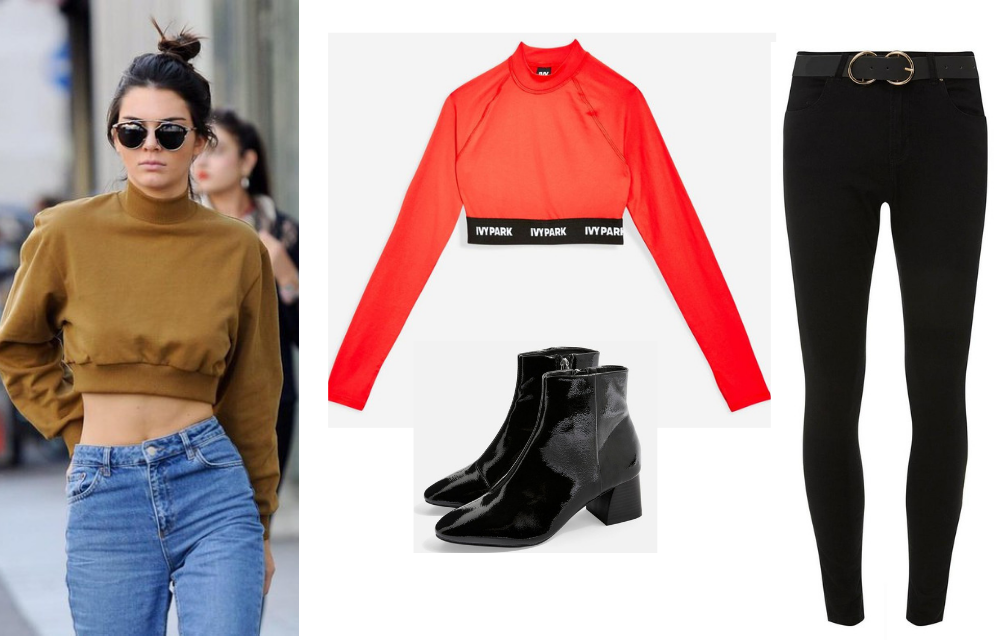 TOPSHOP Long Sleeve Logo Tape Crop Top by Ivy Park S$63.90
DOROTHY PERKINS Black Belted 'Bailey' High Waisted Denim Super Skinny Fit Jeans S$76.90
TOPSHOP BABE Ankle Boots S$89.90
 Don't Block the Colour Block
Life hack! Create a similar toned ensemble to turn the practical concept of a solid coloured outfit into a completely fashionable one. To accent this look, accessorise with a purse and play with different textures till you find your perfect combination of flexible yet flattering.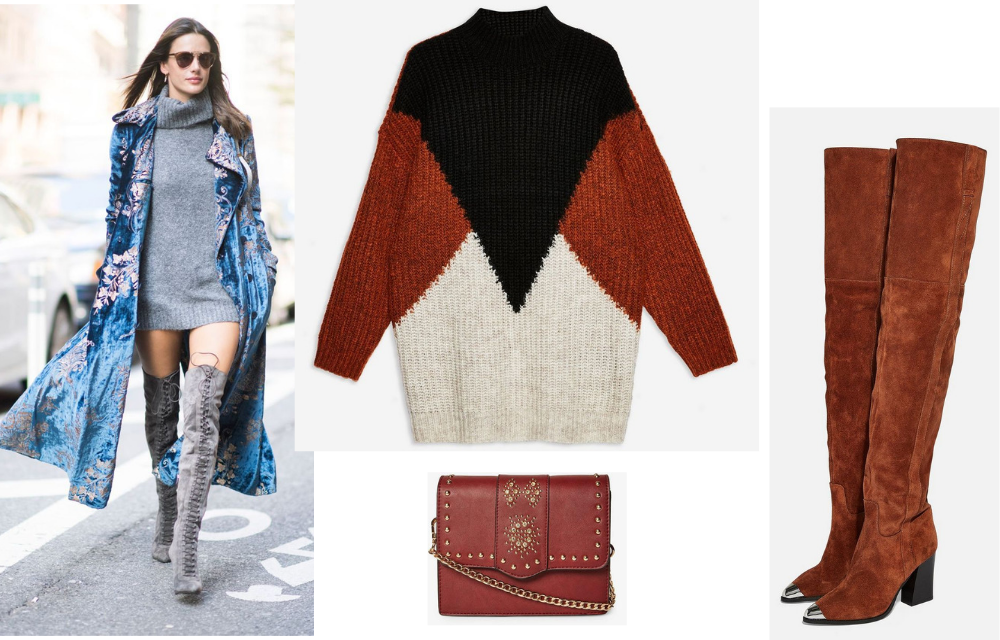 TOPSHOP Colour Block Jumper by YAS S$139
TOPSHOP BASS Chain Over The Knee Boots S$229
DOROTHY PERKINS Burgundy Embellished Cross Body Bag S$ 63.90
With the flood of 90's fashion trends taking over store clothing racks and our Instagram feeds, the comeback of Mom jeans isn't shocking to any of us. Play around with the textures of your outfits and you can look just as good as your fashion idols.

TOPSHOP Turn Back Cuff Roll Neck Jumper S$49.90
TOPSHOP Ecru Corduroy Mom Jeans S$96.90
DOROTHY PERKINS Grey 'Annie' Pointed Ankle Boots S$89.90
TOPSHOP Aly Clip Frame Grab Bag S$56.90
The key to this seriously simple trio is to go for neutral colours and timeless pieces. Paired with a chic body bag you'll look like you're strutting down the runway in no time!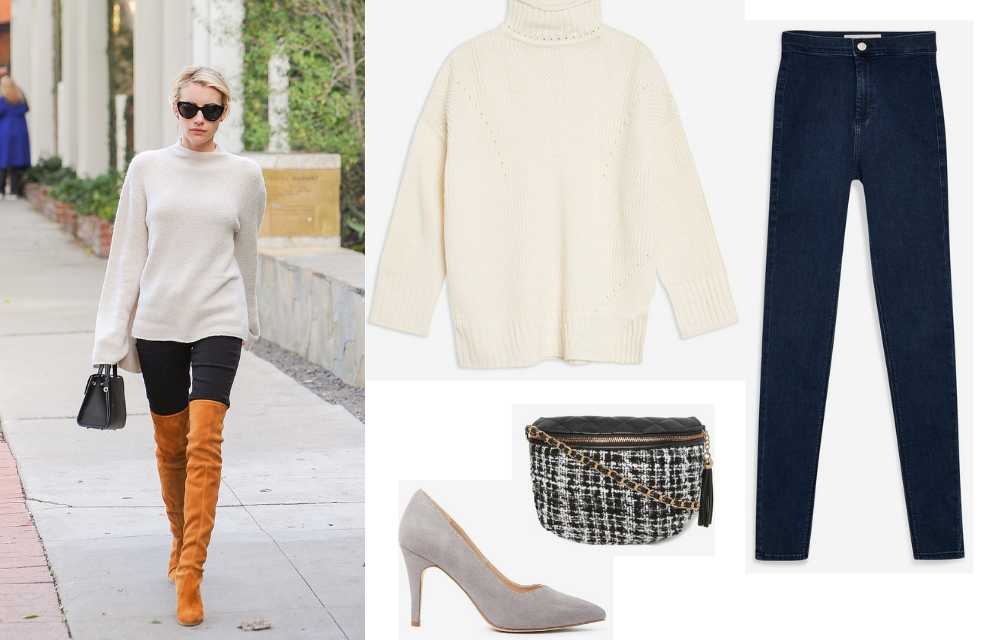 TOPSHOP Roll Neck Jumper S$79.90
TOPSHOP MOTO Indigo Joni Jeans S$73.90
DOROTHY PERKINS Boucle Cross Body Bag S$59.90
DOROTHY PERKINS Wide Fit Grey Electra Court Shoes S$49.90