Calling all astrology buffs!
What are your ruling planets and stars saying about your not-so-distant future? Start the new year on the right track with some of these outfits inspired by your horoscope for 2019!
But remember! You are the master of your own fate and not everything is written in the stars~
ARIES

21 MARCH – 19 APRIL
As always, you are spontaneous and driven and this will only help you to dive headfirst into the new year! Being ruled by the red, hot Mars will also provide you with a great burst of energy when it comes to matters such as goals and ambitions.
Here's an outfit that'll keep you going full steam ahead through 2019 and any oncoming obstacles!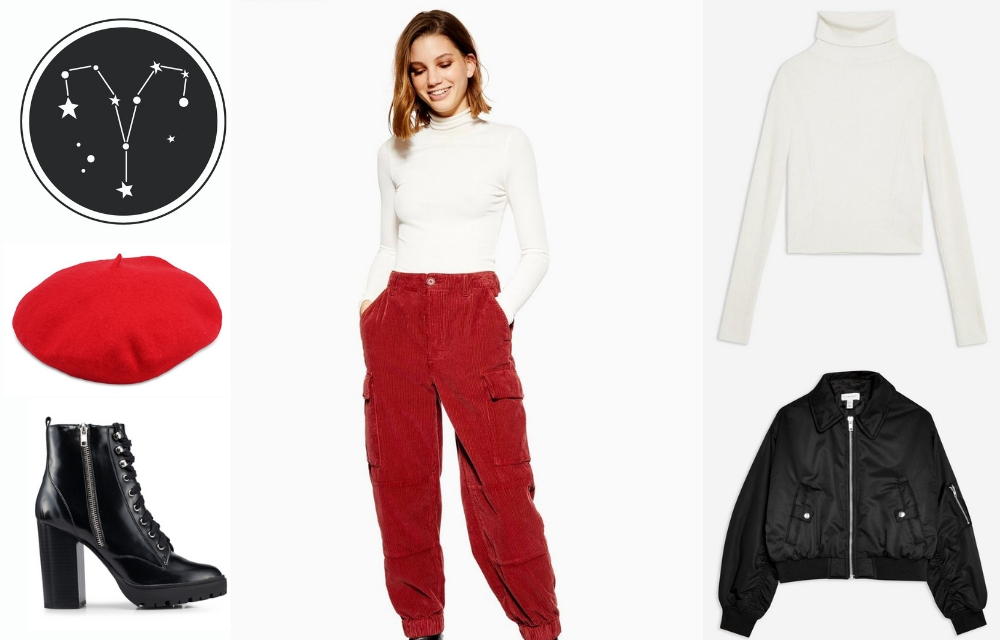 TOPSHOP Cropped Roll Neck Jumper with Cashmere S$79.90
TOPSHOP Bomber Jacket S$116
TOPSHOP Chunky Corduroy Trousers S$106
MISS SELFRIDGE Plain Red Beret S23.90
MISS SELFRIDGE Audrey Hiker Boots S$106
Things might seem to be smooth sailing from here on out as your ruling planet Venus doesn't have any retrograde periods this year, but you should take this peaceful time for some introspection. Stand for what you believe in, but also understand that not everyone might feel the same way about certain things and learn to compromise a little!
As a practical Earth sign, we're suggesting that you go for an outfit that'll help you get right into the swing of things in this new school or work year!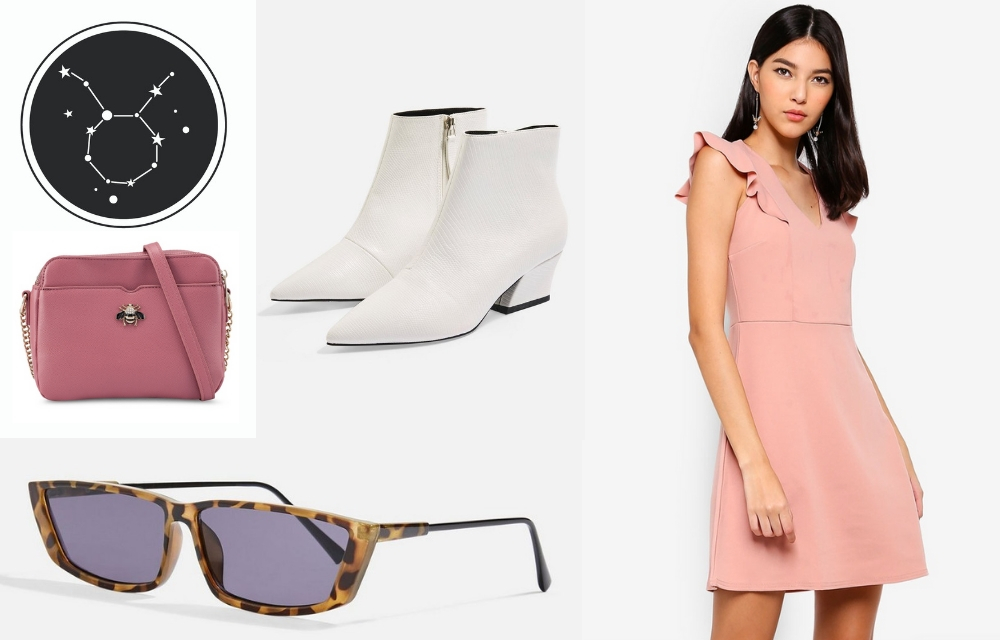 DOROTHY PERKINS Blush Ruffle Skater Dress S$63.90
DOROTHY PERKINS Rose Bee Camera Crossbody S$46.90
TOPSHOP Winona Slim Rectangle Sunglasses S$46.90
TOPSHOP Brink Heeled Point Boots S$79.90
2019 will be a year for growth for you, Geminis!
You may feel an unexplainable need to shake things up in your life but don't let the fear of the unknown deter you. After all, change IS the only constant.
Mercury will spend a lot of time involved with emotional water signs and although it might go against your logical nature to overthink things through, step out of your comfort zone and go with the flow!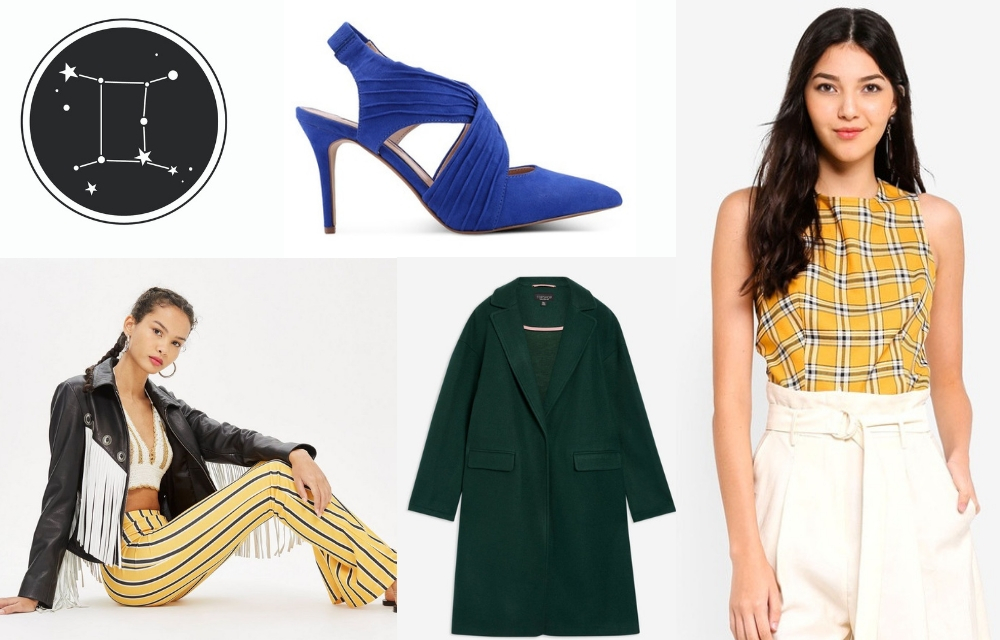 MISS SELFRIDGE Ochre Check Shell Top S$66.90
TOPSHOP Relaxed Coat S149.00
TOPSHOP Yellow Striped Flared Trousers S$56.90
DOROTHY PERKINS Blue Microfibre Espresso Court Heels S$69.90

It's no secret that you Cancers wear your heart on your sleeve but with a Supermoon heading our way so early in the year (21 Jan), there will barely be space for you to hide your true emotions at all.
We say embrace that unexpected exposure and show the world what you're made of! It's time to take the wheel and ride the year out in style.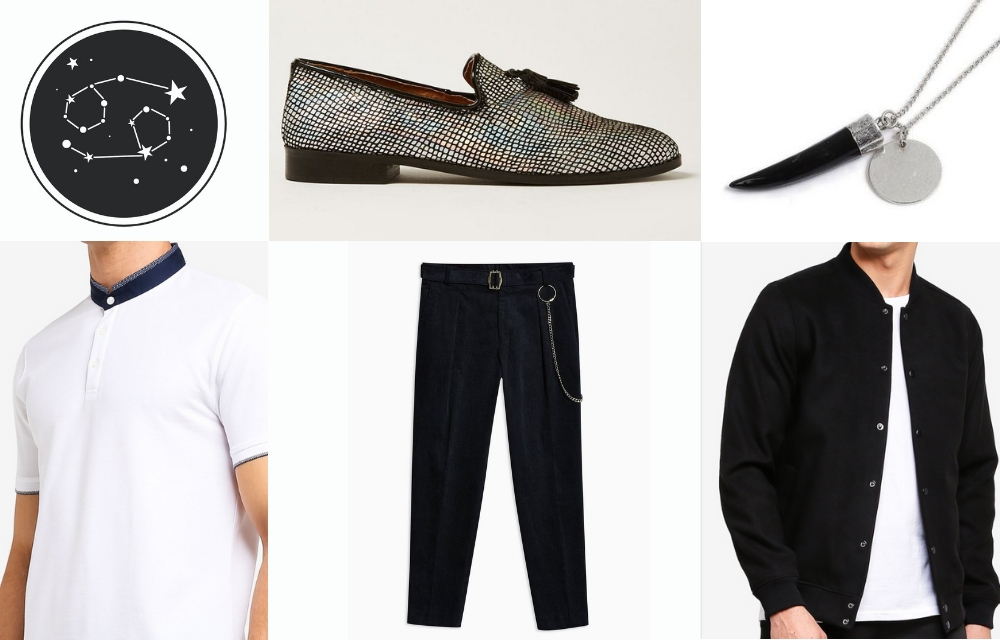 G2000 Woven Detail Stand Collar Polo Shirt S$53
BURTON MENSWEAR LONDON Black Faux Wool Bomber Jacket S$139
TOPMAN Navy Corduroy Tapered Trousers S$109
TOPMAN HOUSE OF HOUNDS Silver Leather Blitz Tassel Loafers S$153
TOPMAN Black Tusk Necklace S$23.90
Like your ruler, the Sun, you have always been the star of the show and 2019 isn't going to change things!
Change however may come in other areas of your life and if they turn out good, you'll want nothing more than to share the news with the ones you love!
We have an outfit for you that'll not only portray all that self-confidence and happiness but also maybe rub it off on everyone around you!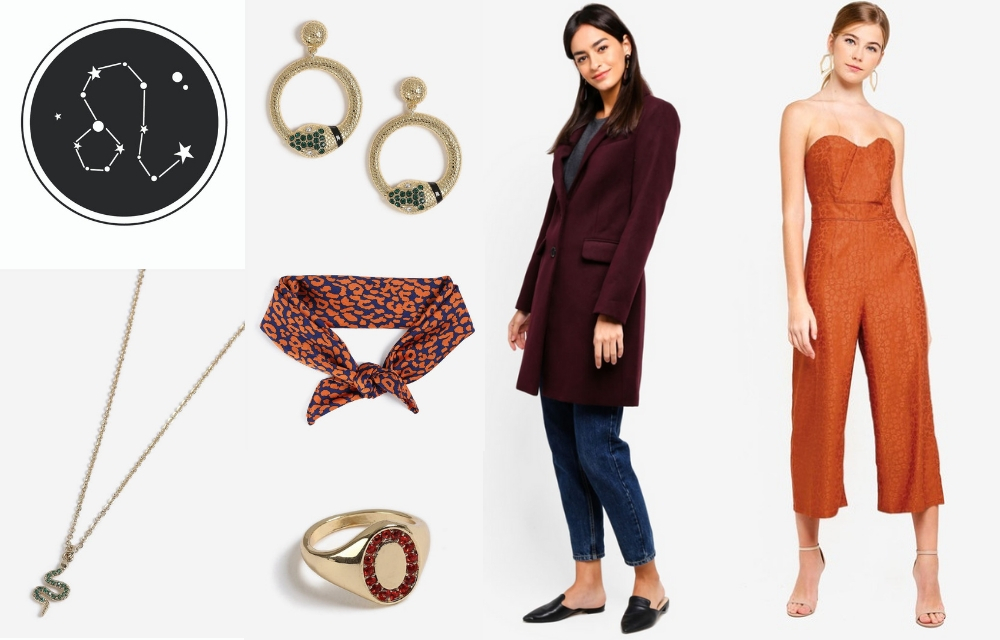 MISS SELFRIDGE Rust Jacquard Jumpsuit S$136
WAREHOUSE Single Breasted Coat S$209
TOPSHOP Leopard Print Headscarf S$26.90
TOPSHOP House of Freedom Snake Ditsy Necklace S$39.90
TOPSHOP Gem Stud Signet Ring S$13.90
TOPSHOP Snake Wrap Gem Hoop Earrings S$23.90
VIRGO

23 AUGUST – 22 SEPTEMBER
While some may call you over critical, you know it isn't about that. You just have an eye for details and want to make sure everything is right before you can have a fun night out!
This however goes against your practical nature because you start to forget when to stop doing and when to start editing, even for outfits! It's all about that balance.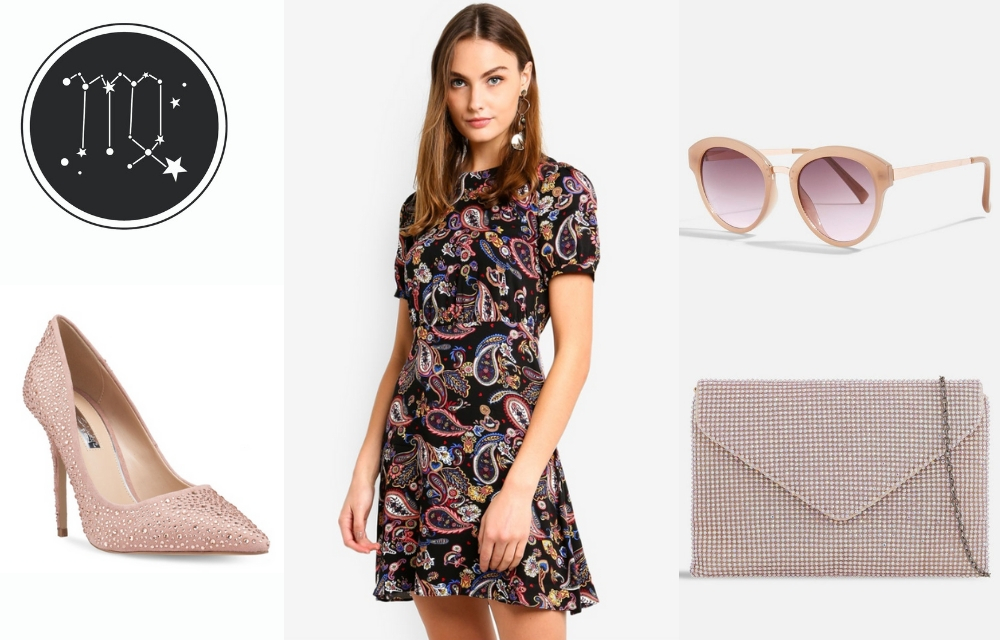 WAREHOUSE Paisley Flippy Dress S$109
MISS SELFRIDGE Coco Embellished Court Heels S$99.90
TOPSHOP Lara Preppy Round Sunglasses S$36.90
TOPSHOP Diamante Envelope Clutch Bag by Koko Couture S$63.90
LIBRA

23 SEPTEMBER – 22 OCTOBER
It's finally time to stop meddling with things around you and maybe start working on internal matters instead!
Being ruled by Venus, you are a gracious, social butterfly and should welcome 2019's aspects of renewal and allow yourself to undergo a metamorphosis.
Just like your horoscope prediction, this outfit suggestion is new twist on an old take that'll allow you to spread your wings and take 2019 like a champ!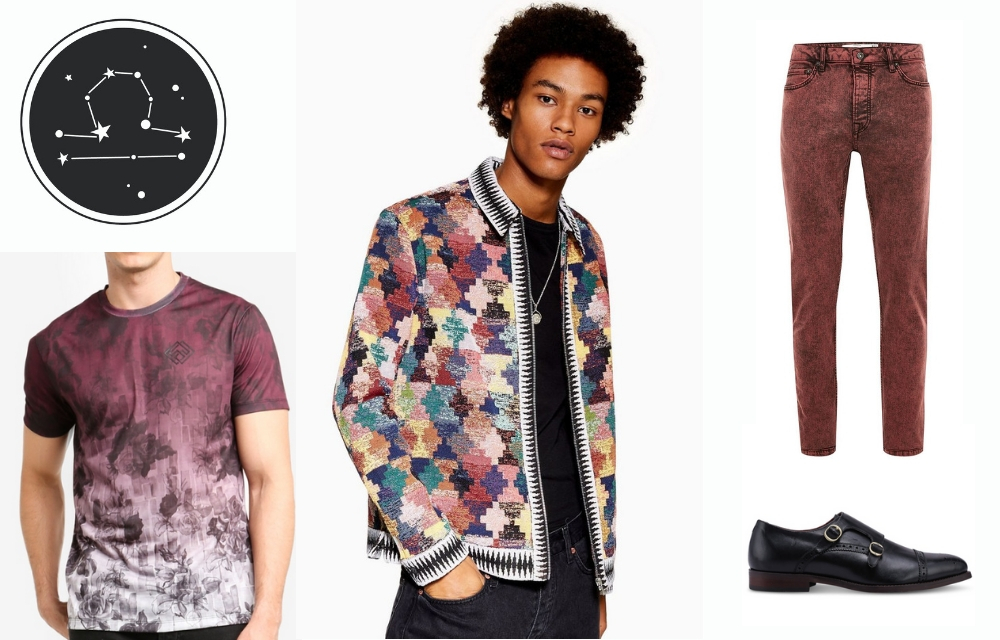 TOPMAN Multi Tapestry Zip Through Overshirt S$133
BURTON MENSWEAR LONDON Burgundy Iconic Flo Fade T-Shirt S$36.90
TOPMAN Red Acid Wash Stretch Skinny Jeans S$93.90
BURTON MENSWEAR LONDON Black Leather Double Strap Monk Shoes with Brogue Detailing S$176
SCORPIO

23 OCTOBER – 21 NOVEMBER
There's no doubt that you Scorpios are as resourceful and passionate as they get, especially with Mars staying direct all year long. But the question is, what will you be passionate about in 2019?
As you get busy with your personal or professional goals, you will learn to treasure the rare moments of down time dearly. Here's an outfit that'll keep you comfy for the productive year to come!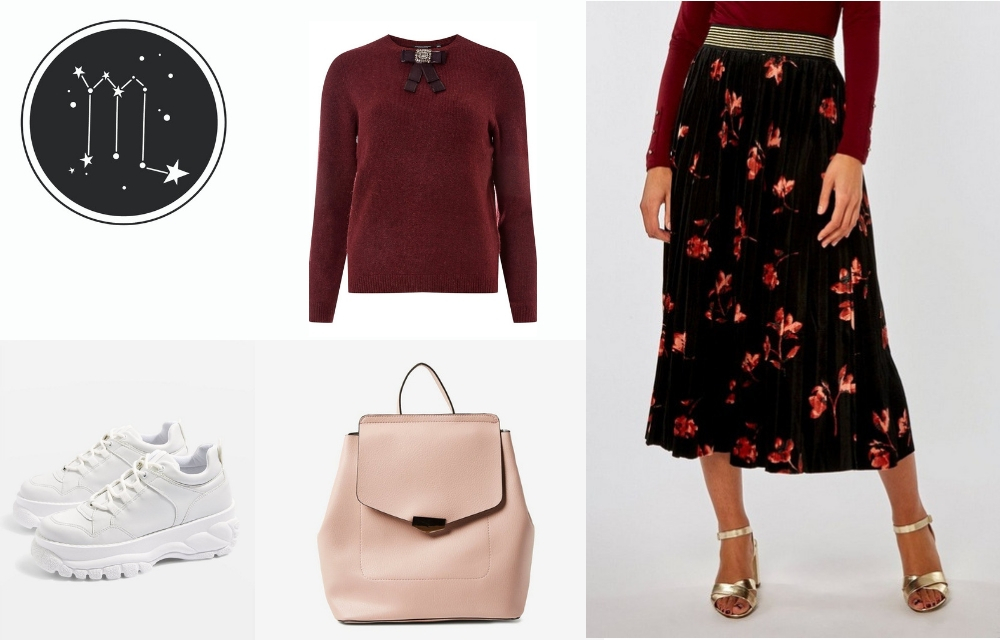 DOROTHY PERKINS Aubergine Brooch Crew Neck Jumper S$73.90
DOROTHY PERKINS Only Black Velour Skirt S$139
TOPSHOP CAIRO Chunky Sneakers S$89.90
DOROTHY PERKINS Pieces Rose 'Kana' Backpack S$89.90
SAGITTARIUS

22 NOVEMBER – 21 DECEMBER
With Jupiter being outgoing for the majority of the year, you Sagi's are going to have a whole hecking load of fun, much to your relief.
Despite your inclinations to be open minded and accepting, you may face difficult situations around others who don't see things eye to eye with you. But c'est la vie, you know the party must go on!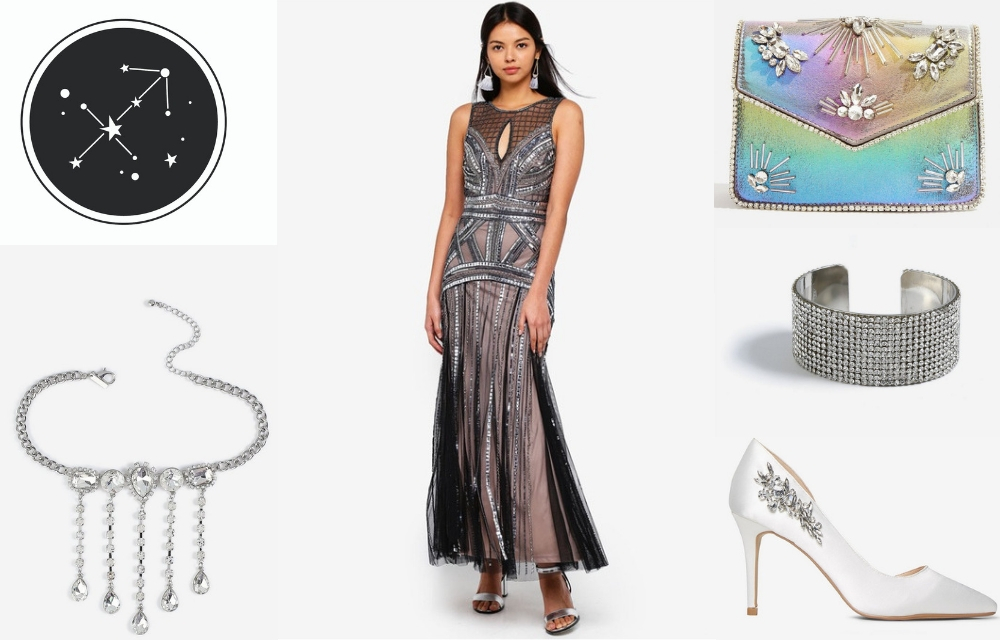 MISS SELFRIDGE Petite Black Maxi Dress S$299
DOROTHY PERKINS Ivory 'Gigi' Pointed Court Shoes S$89.90
TOPSHOP Mega Jewel Drop Choker S$49.90
TOPSHOP Mini Rory Frosted Cross Body Bag by Skinnydip S$69.90
TOPSHOP Silver Rhinestone Cuff S$26.90
CAPRICORN

22 DECEMBER – 19 JANUARY
Saturn is showing that there are some great opportunities coming for you in 2019! Just in time to scratch that ambitious itch you've been feeling.
And while you may have your work cut out for you managing all these important life decisions, you're going to need to manage your own expectations and not always expect the worse. However, we can guarantee that you'll look thebomb.com in this outfit we have picked out for you!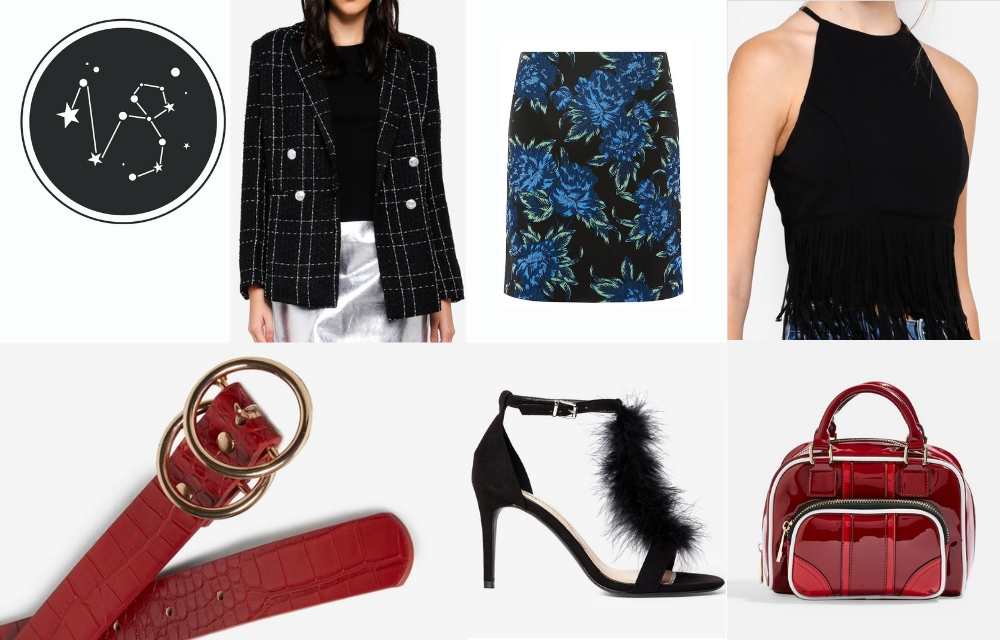 MISS SELFRIDGE Sleeveless Tassle Top S$59.90
MISS SELFRIDGE Black Boucle Jacket S$139
DOROTHY PERKINS Cobalt Blue Jacquard Mini Skirt S$63.90
DOROTHY PERKINS Black 'Beau' Heeled Sandals S$76.90
TOPSHOP Brooke Patent Bowler Bag S$56.90
DOROTHY PERKINS Red Croc Design Double Circle Belt S$16.90
AQUARIUS

20 JANUARY – 18 FEBRUARY
Brace yourselves, Uranus is on course for some major changes in the coming year! As your home planet moves through multiple signs, you'll find yourself following suit and taking a different approach to even the smallest of things.
Remember to take things one step at a time and make sure that you've got a steady foundation before you reach for the stars!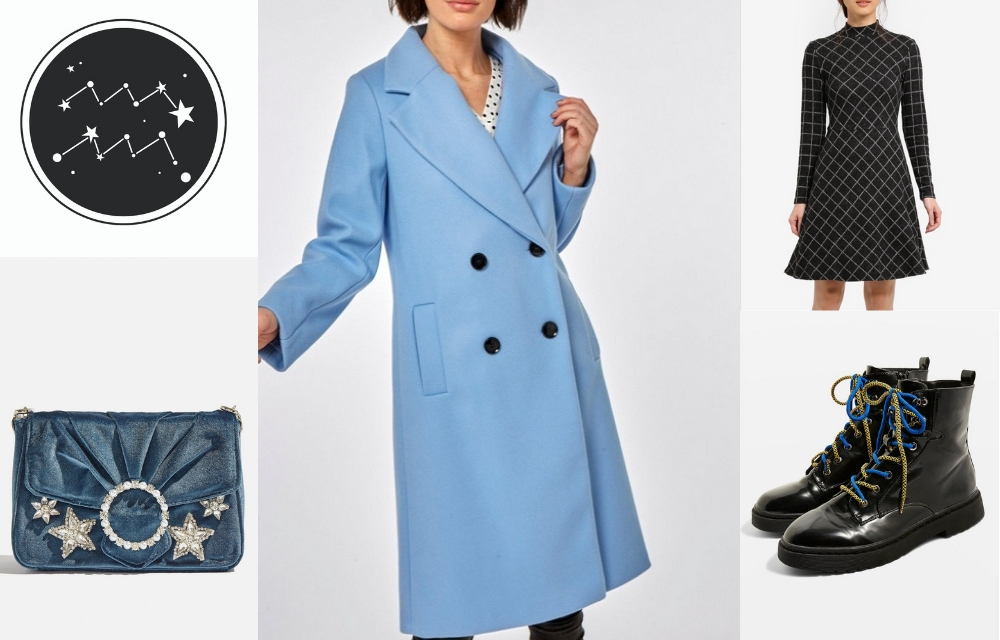 WAREHOUSE Warmhandle Check Polo Dress S$109
DOROTHY PERKINS Blue Double Breasted Coat S$179
TOPSHOP Vanessa Star Cross Body Bag by Skinnydip S$36.90
TOPSHOP KRUNCH Chunky Boots S$89.90
PISCES

19 FEBRUARY – 20 MARCH
Your sensitive nature will find itself being more exposed and vulnerable than usual as Neptune slowly spins into retrograde later in the year and things might start to feel a little rough but this isn't the time to feel despondent!
These times will only help you grow. Equip yourself with only the best so you can benefit both internally and externally for the future and you'll be taking on 2020 head-on in no time!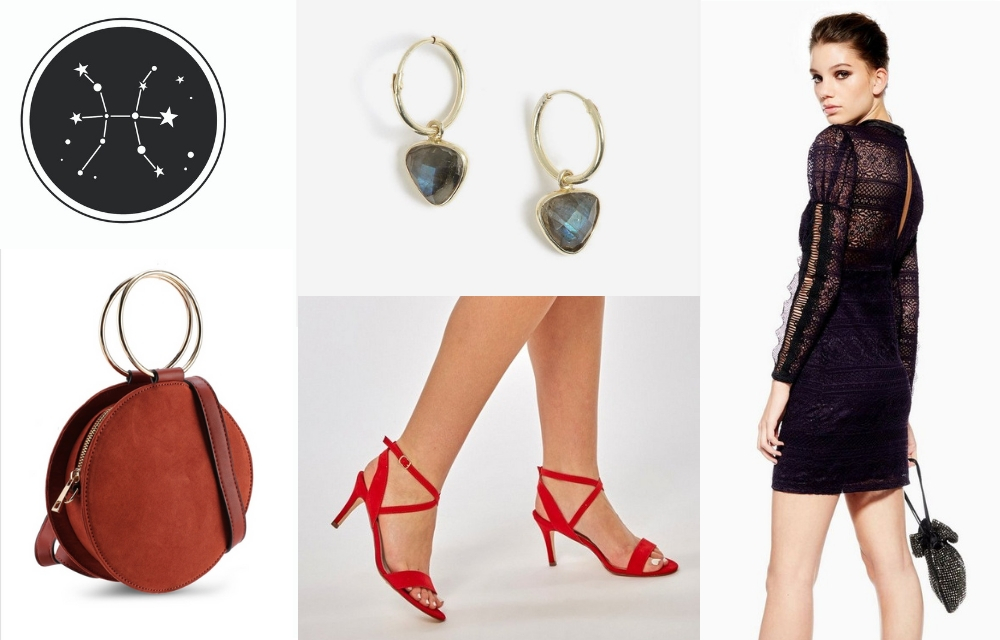 TOPSHOP Scallop Lace Trim Dress S$96.90
MISS SELFRIDGE Metal Round Crossbody Bag S$59.90
DOROTHY PERKINS Wide Fit Red 'Samia' Microfibre Heeled Sandals S$63.90
TOPSHOP House of Freedom Stone Drops S$56.90